Developing a Country Season across the Festivals
Challenge: How can a country take advantage of the unique opportunities of its artists appearing at the Edinburgh Festivals?
Solution: Develop a strategic country showcase across multiple festivals with both artistics and brand positioning objectives.
Project Outline
In 2012 Creative New Zealand brought a small delegation of stakeholders and senior leaders from the cultural sector in New Zealand to scope opportunities at the Edinburgh Festivals, which led to a delegation of 18 arts professionals attending in 2013 to develop their own professional networks across festivals and the wider culture sector in Scotland.
This experince created an ambition to develop a major country season connecting across six of Edinburgh's Festivals in order to maximize opportunities for artists while also raising the profile of the country through a persistent and collaborative presence.
An initial set of startgeic objectives were developed:
To raise the awareness of New Zealand art/artists in Scotland, UK and internationally
To develop long-term relationships between New Zealand artists, producers, venues and Scottish/UK/International festival directors, producers, presenters
To foster artistic exchanges between New Zealand artists and Scottish/UK/International artists
To build the capability of New Zealand artists, performers, producers, presenters, curators and directors in order to increase international touring
Creative New Zealand then committed fianncial resources towards the 2014 project, providing certainty and reassurances across both festival and artistic partners at an early stage, in a way that empowered artists to incubate their ideas over the required time to deliver the season.
Creative New Zealand then took the lead on marketing and PR strategy, where they:
Developed a brand identity for the season, which was vibrant, colourful and eye-catching, with subsequent marketing collateral [brochure, poster, web and social media presence]
Financial support was provided for representatives of the press to specifically cover the New Zealand season, which they were able to successfully achieve, because of the 'hook' of the country season.
Physical presence within Edinburgh: a pop-up pavilion bar - Backyard at the Roxy - celebrated some of the best produce that New Zealand has to offer including wine, craft beer, ciders and delicious food from the pacific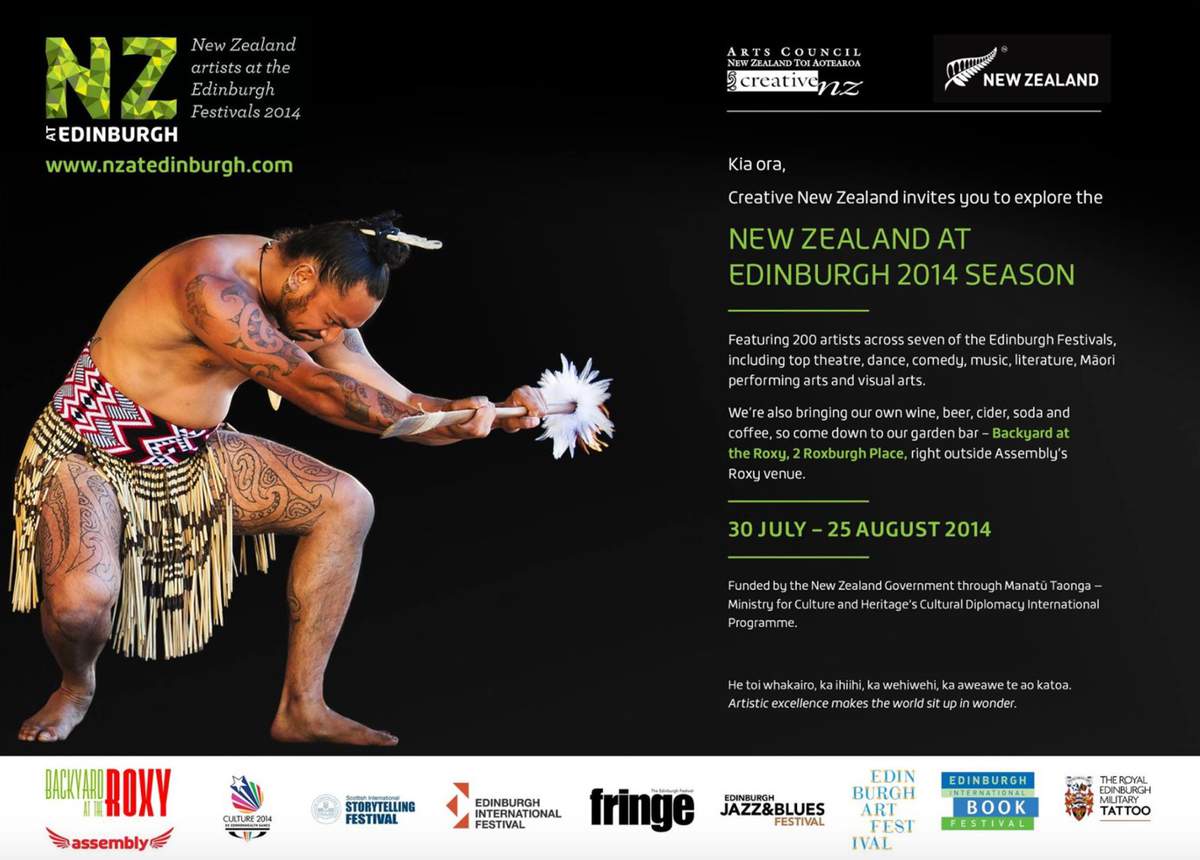 Results
Through presenting a season in 2014, New Zealand's artists experienced on-going international touring and presentation opportunities, and the profile of their cultural offer as a nation was recognised as high quality at global level. Many artists are now touring internationally and self-sustainably, often without Creative New Zealand investment. Some examples across the different festivals include:
8 out of 11 productions following up international offers in the UK, USA, Netherlands, India and Ireland.
The New Zealand artists exhibiting in the Edinburgh Art Festival exhibition Where do I end and you begin have received interest from several UK curators and dealers. The exhibition is still on tour internationally (as of the start of 2017 being exhibited in Bayreuth)
Auckland Theatre Company (ATC) toured the USA in 2016 including the Virginia Arts Festival, Pennsylvania Arts Festival, Purdue University and the Wharton Centre for Performing Arts at Michigan State University
Royale Productions, Generation of Z, forged a strong relationship with one of the largest Fringe presenters Assembly who invested in a six-month East End London 2015 season
Black Grace was invited back to Assembly to do a full show in 2015/2016 as well as advancing several other U.K and European relationships including with the Holland Dance Festival and the U.K Dance Consortium
Little Dog Barking were invited by Teamworks Delhi to tour of India in 2015 with further performances in the U.K in 2015
Multinesia has received interest from UK and USA producers and presenters for future tours
Te Matatini has been invited back to the Royal Edinburgh Military Tattoo in 2017 and also invited to participate in the Tattoo on tour in Wellington, New Zealand in 2016, and has received other Tattoo invitations from around the world
Witi Ihimaera has been approached by the Commonwealth Foundation to be one of four international judges for the Commonwealth Short Story competition in 2015. He has also received an invitation to appear in the Jaipur Literature Festival and the Dublin Writers Festival
The Troubles performed at the 2015 Edinburgh Jazz and Blues Festival and Fringe Festival among several other international invitations.
Creative New Zealand's marketing collateral, in addition to the companies' individual material, contributed significantly to the impact of NZ at Edinburgh 2014:
73% of audiences expressed interest in seeing more NZ work
There were 24,389 paid attendances, reprsenting 50% capacity (average Fringe capacity audiences 30%)
£1m media coverage (estimated) - 60% of reviews rated either 4 or 5 out of a maximum of 5
Such was the success of the New Zealand 2014 season, Creative New Zealand are now committed to delivering a further major season in 2017 - representing a significant investment in the international development of their artists.