What is Halloween and where did it come from?
Halloween dates back to the ancient Celtic festival of Samhain (pronounced sa-win), Samhain was held to honour the end of the harvest season and means "summer's end."
The word Halloween is a Scottish term for All Hallows Eve - basically, the evening before All Saints' Day.
In order to protect their crops, Scots would light bonfires to scare off evil spirits and dress up in scary costumes to protect themselves. Individuals would ask for food in exchange for a poem or song, a tradition known today as guising.
In Edinburgh ancient Halloween traditions are still practiced every year at the Samhuinn Fire Festival, part of the Scottish International Storytelling Festival. Over 400 performers and thousands of spectators gather on Edinburgh's Calton Hill on 31 October. Performers dance against a backdrop of flaming props, playing out a story which tells the tale of the changing seasons.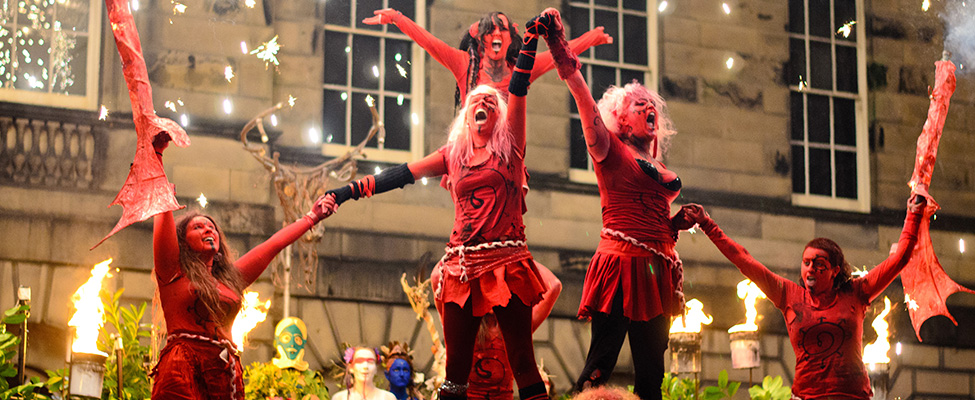 The story follows the overthrowing of Summer by Winter, with a dramatic stand-off between the Summer and Winter Kings.

This is overseen by the Cailleach, a Celtic representation of the Goddess, or Divine Hag, who ultimately decides each King's fate and ushers in the colder months.
The transformation from Summer to Winter is supported by the energies and interactions of the Summer and Winter courts through performance, music and dance. The narrative focuses on this conflict and its resolution, but also focuses on the transition that many aspects of life take during the changing of the seasons.
Wrap up warm and experience this ancient fire-filled custom on Halloween night!