Top moments from Edinburgh's Autumn and Winter Festivals
Enchanting performances, workshops, talks and events centred around traditional storytelling. This celebration of live oral traditions and cultural diversity brings together Scottish and international storytellers and musicians, to celebrate rhythms and methods of storytelling.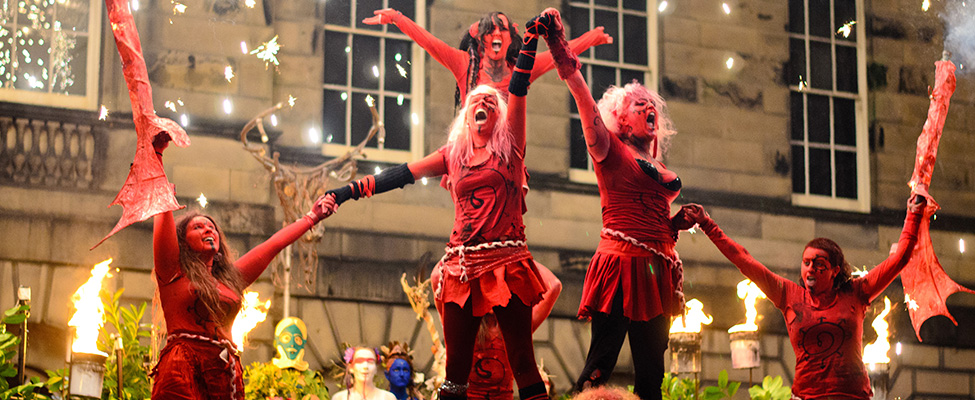 Inspired by the Scottish ceilidh tradition and its sense of togetherness, this is an inviting community gathering full of tales, anecdotes, music, songs and ballads.
Words, music and a wee hint of magic combine beautifully at this autumnal Edinburgh experience. Thrill to the expert weaving of tales from across the land and beyond, regularly enhanced by beautiful musical accompaniment to create an atmosphere and intimacy rarely seen.
Highlighted as one of the 'Top 100 things to do before you die' and recently the only festival to appear in the 'Discovery Channel – Top 25 World Travel Experiences', Edinburgh's Hogmanay Street Party is one of the world's greatest New Year celebrations.
Join thousands of marchers bearing firelit torches, enjoy birling to traditional Scottish music beneath the striking edifice of Edinburgh Castle, and watch top stars and incredible fireworks from Princes Street Gardens.
It's also a river of a distinctly colder variety that welcomes a thousand brave souls, clad in fabulous costumes of course, for the world-famous New Year's Day Loony Dook.
Dookers first take part in the so-called Dookers' Fancy Dress Parade, leading from the Hawes car park at the far end of the town to the old mole. Over 4,000 spectators cheer on the participants at various vantage points. The Dookers are then greeted by bagpipe pipers and warmed with bowls of "energising porridge", prior to plunging themselves into the freezing Firth of Forth.
The Festivals are a huge part of what makes Edinburgh and Scotland so special - and the festivals themselves wouldn't be quite the same anywhere else!

Plan your trip to experience our year-round selection of Edinburgh Festivals.