What to Do at the Edinburgh Festivals at Night During August
Each of our August festivals has a rich, vibrant nightlife that's definitely worth checking out. Here we share what to look out for so you can make the most of nighttime festival life.
Edinburgh Art Festival
Events - Experience a culture crawl every Thursday evening during the Art Festival at Art Late - a series of curated tours that involves talks from artists and one-off performances. There are workshops that you can take part in too and, don't worry, you won't go thirsty at this event as drinks are even provided by Edinburgh Gin and Bellfield Brewery.
Exhibitions - Not all exhibitions occur during the day at the Art Festival. In fact, some even go on until 10pm at night. Many of the events at the Art Festival are free but be sure to check out their programme for more information.
Pop-ups - Every year the Edinburgh Art Festival advertises an open call to artists without a year-round presence in the city to get involved in short pop-ups. As with most events and exhibitions at the Art Festival, pop-ups are usually free to attend. Although many take place during the day, some finish later at 7pm meaning that you can enjoy art without the hustle and bustle of daytime busyness.
Find the Edinburgh Art Festival tickets, programmes and more information here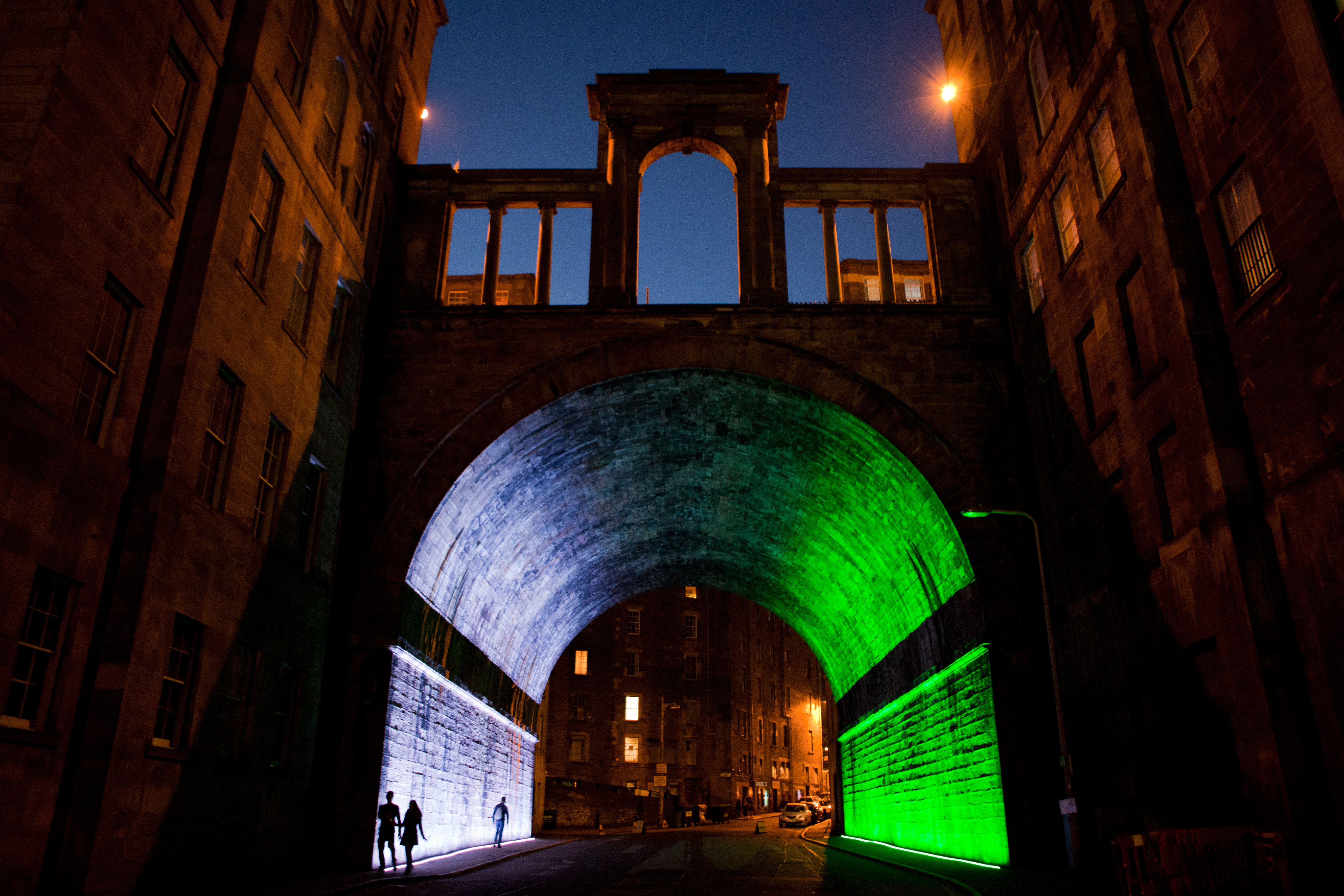 Edinburgh International Festival
Opening Event - Every year the Edinburgh International Festival hosts an exhilarating opening event to celebrate the start of the festival. Usually starting around 7pm the opening event has included included spectacular large scale animations projected onto buildings and for 2019 an open air orchestral concert at a local football stadium
Opera, Theatre, Dance, Visual Arts - The International Festival showcases three weeks of breathtaking, dramatic performances in opera, theatre, dance and visual arts. While a few performances take place during the day from 12pm, many don't start until around 7pm. If you've got more time on your hands, longer performances often start at 4pm and finish late giving you plenty of time to fully immerse yourself in the cultural experience!
Find the Edinburgh International Festival programme and more information here

The Royal Edinburgh Military Tattoo
Half Price Preview - Did you know that you could get half price tickets to preview the Royal Military Tattoo? This first exclusive preview starts at 9.30pm so it's the perfect festival activity to get you out and about enjoying the festival city at night.
Weekday Performances - With the exception of the first performance which starts at 9.30pm, all weekday Military Tattoo performances start at 9pm.
Saturday Performances - If you're looking for a Saturday night performance then look no further than the Royal Edinburgh Military Tattoo! On Saturday they present two performances - one that starts at 7.15pm and one that starts at 10.30pm. The later of the two performances finishes with an extended display of fantastic fireworks to make sure your weekend goes off with a bang.
Find the Royal Edinburgh Military Tattoo programme and more information here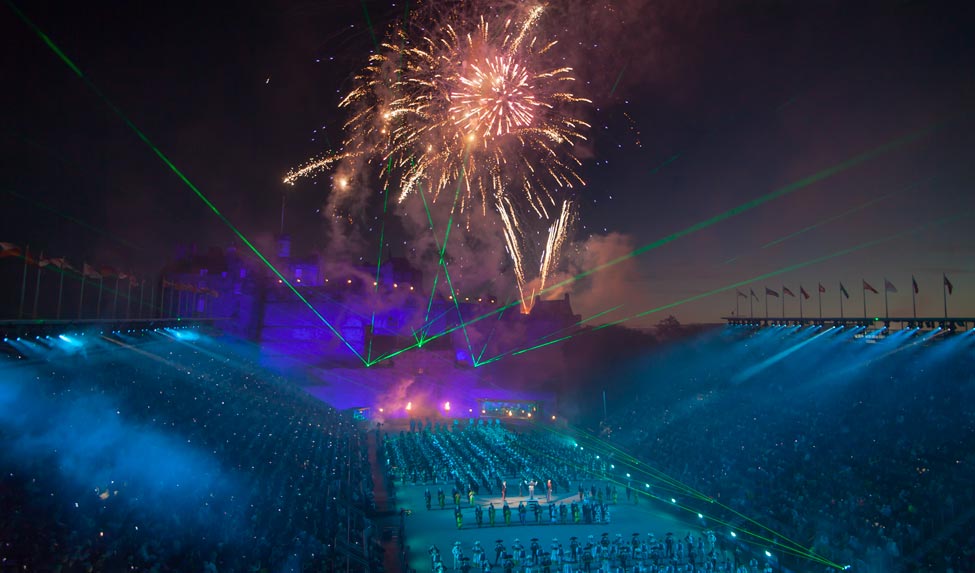 Edinburgh Festival Fringe
The Edinburgh Festival Fringe has a whole host of exciting events and exhibitions on that you'll be spoilt for choice with how to spend your evening. From spoken word, cabaret, comedy and live music to theatre, opera, exhibitions and events you'll never be bored in the evenings!
There's so much to choose from that we could spend days listing what you could get up to in the evening! So, the easiest way to find evening events is to visit the Edinburgh Fringe website and find out what's on at your desired time. You can easily use their advanced filter settings to get the time, date and type of event that you'd most like to attend - easy!
For more information on the Edinburgh Fringe Festival click here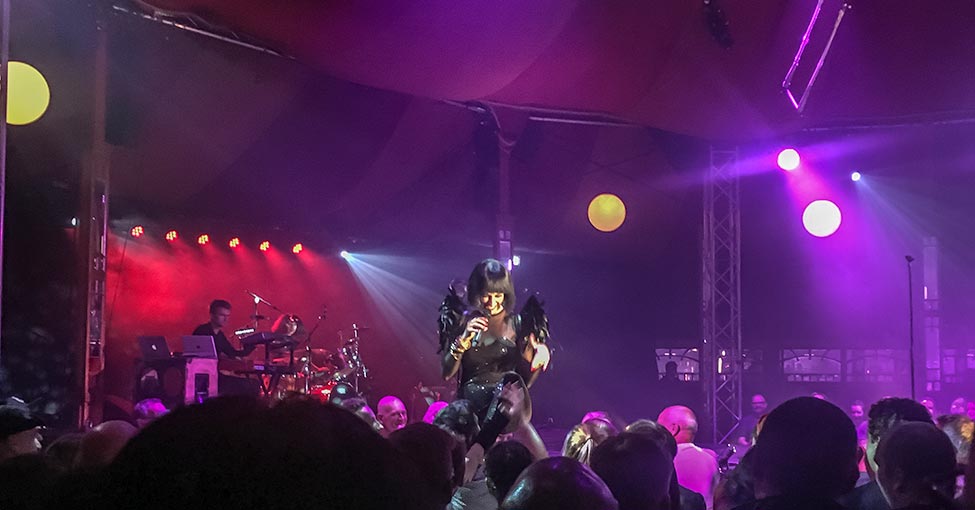 Edinburgh International Book Festival
Book Talks - Although many events at the International Book Festival take place during the day, you'll definitely still find intriguing events in the evening to satisfy the needs of any book lover! Discover exciting new reads and hear it straight from the authors' mouths as they explore, talk and debate their latest books. At this festival, book talks start from all times of day right up to 9pm in the evening and, with such a wide range of genres, topics, debates and styles there's definitely something for every taste.
Live Literary Cabaret - Combine a love of music and word play at the International Book Festival's Live Literary Cabaret. These events start from around 9pm so grab a drink from the bar and revel in the witty talent that will be showcased.
Workshops - The Book Festival isn't all about other authors - why not take part in a creative workshop that will help you on your journey to becoming one yourself? Whether you write for fun or you're looking to hone your skills, the International Book Festival has hands-on workshops that will help you explore and develop your talent as a writer. There are many reading and creative writing workshops throughout the festival and some take place in the evening - perfect if you want to unleash your creative thoughts at night!
Click here for Edinburgh International Book Festival tickets, programmes and more information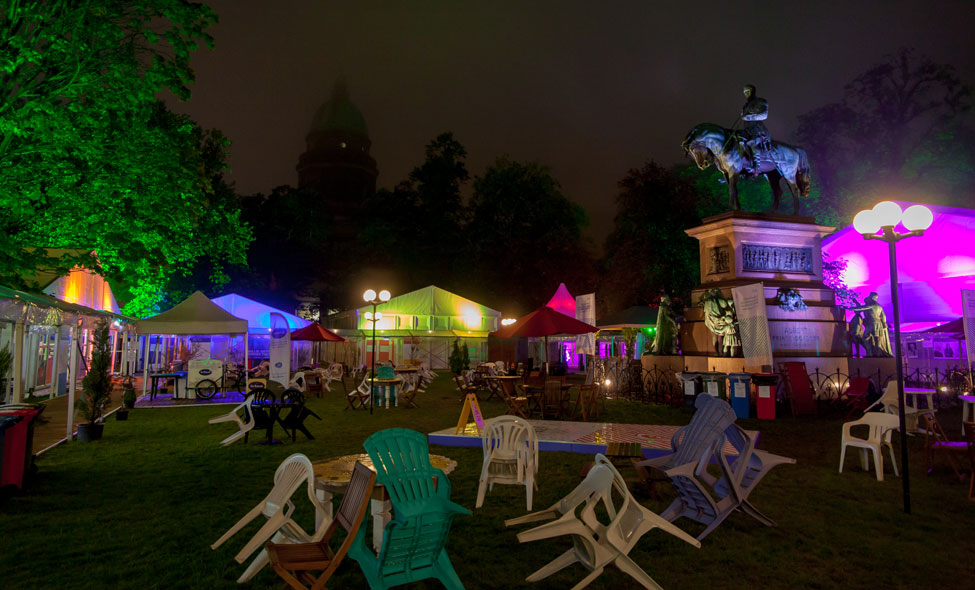 Did you know that Edinburgh runs festivals all year round, not just during August? From Science to Jazz to Storytelling, there's a festival for everyone. We're not called the world's leading festival city for nothing! Check out the diverse range of Edinburgh's Festivals here.