Edinburgh Festival City with Families
Edinburgh's year-round festival calendar is perfectly geared up for families, and with a beach on the doorstep, plenty of green spaces and lots of hands-on activities, you'll wonder why you never considered coming with the kids before.
Edinburgh is a great family city-break destination. The city is compact enough you can explore most of it on foot – while offering lots of tram and bus routes and good-value family travel tickets for when little legs get tired – and jam-packed with free or cheap attractions.
You could spend all day in the cavernous cabinet of curiosities that is the National Museum of Scotland, stop by to spot the nearby Greyfriars Bobby, or go in search of Harry Potter locations.
And, if you visit during one of the city's 11 annual festivals, there's the added excitement of a staggering calendar of events perfectly pitched at kids, from puppet and magic shows in secret corners of the city, to spellbinding theatre and art displays, as well as a good dose of downright silliness.
Here are the best ways to enjoy Edinburgh's 11 annual festivals, season by season.
Spring
As the curtains of Edinburgh's dark winter begin to draw back, revealing the first shards of spring, two events mark the start of festival season. First up, The Edinburgh Science Festival over the Easter holidays is a great way to challenge quizzical minds and wow them with unbelievable truths. Most events take place in the City Art Centre, with off-shoot workshops in venues such as The Pleasance and kid-favourite Dynamic Earth.
In late May comes the enthralling Edinburgh International Children's Festival, which kicks off with an opening gala at the National Museum of Scotland on the first Saturday before hosting fun shows from the abstract to the more lucid at relatively small venues (largely in the city's Southside) that will have your children captivated. Tickets are fairly priced, performances are world-class, and it's relatively calm, too.
Where to stay
Since many of these events take place on the southern side of the city, the little guesthouse of 94DR is a good shout. Book early to get the Wee Dram bunk room, which connects to the Tamdhu room. Parents can watch a film or read in peace while kids will love the games, DVDs and Xbox, well it is their holiday too.
Where to visit
Though Edinburgh's Highlands' park in miniature, Holyrood Park, is just a short walk from the 94DR, the peak of Arthur's Seat may feel a bit too much of a slog for small children (and anyone stuck with carrying them) but for kids aged seven and over it is perfectly do-able.
You could make it easier on yourself by getting a taxi to Dunsapie Loch for a much shorter route to the top than the one from Holyrood Palace.
Where to eat
Mums Great Comfort Food is the kind of cool burger joint you see in movies. The kids will thank you for bringing them here.
Early Summer
Before the mayhem of August arrives there are a couple of very good festivals that make good use of the warmer and (hopefully) drier weather in Edinburgh.
In June, the Edinburgh International Film Festival has lots of free open-air screenings of kids' films in St Andrew Square, with no need to book. Simply bring a picnic and chill out with no fear of your fidgety kids being too distracting for other cinema-goers. The main programme also features a good variety of family classics.
The Edinburgh Jazz and Blues Festival each July opens with the spectacle of the Carnival Parade, a loud, flamboyant, fiesta of fun, dancing, even acrobatics. Kids also love the vibrancy and liveliness of the Mardi Gras festivities in Grassmarket. And best of all, both events are free.
Where to stay
Aparthotel Adagio Edinburgh Royal Mile offers the best of both worlds to families: a cosy bolthole with you own kitchen, plus access to hotel amenities, including toys and a winning breakfast.
Where to visit
The Meadows, just south of the Old Town, is a peaceful park for a run around or picnic. For a family fun day though, jump on a bus to the zoo to see the pandas.
Where to eat
The cakes and other baked goods at Sugar Daddy's Bakery near The Meadows are so good, the kids will have no idea they're gluten-free.
August
Who can deny the round-the-clock fanfare of Edinburgh in August? While you may be tempted to stay away during the main festival season and (shock, horror) the school holidays, don't – you and the family will be missing out on so much.
Even if you don't book tickets for anything, the Royal Mile and Princess Street Gardens will be abuzz with virtually non-stop performances. Just be sure to hold their hands tight as you make your way through the crowds.
If you do want to book for some of the fantastic kid shows, limit yourself to one show a day – two max. Trying to get kids to rush from one venue to the next really won't be much fun for anyone.
The Edinburgh Art Festival is a great way to do August in Edinburgh on a budget as most events are free, and venues tend to be accessible to buggies, plus there are lots of kid-friendly sessions.
For a pricier affair, the Royal Edinburgh Military Tattoo Royal is the kind of spectacle older children will remember for years to come. Make sure you book tickets for the slightly earlier Saturday showing of 7.15pm.
The Edinburgh International Book Festival is a great place to inspire a love of books, which is surely one of the biggest joys of childhood. Charlotte Square Gardens, the main nucleus of the festival, is also a pretty and (most importantly) contained area to sit back and let the kids run around for a bit, while you plan your day's activities with a glass of something cool in hand.
Of course the Edinburgh Festival Fringe has tons of events aimed at kids, from the slightly absurd to the genuinely thought-provoking, with a daily programme of events from about midday on.
Despite its more grown-up reputation, the Edinburgh International Festival does offer a good range of shows for a younger audience, particularly teenagers, most of which are ticketed. The extravaganza of the end of festival concert, with fireworks above the castle, is pretty special too.
Where to stay
Abercorn Guest House in Edinburgh's seaside suburb of Portobello is a great way to explore somewhere outside the city centre and it has a huge family room.
Where to visit
Portobello Beach is a beautiful stretch of golden sands just a couple of miles from the city centre, which is perfect for tiring out little ones.
Where to eat
The Beach House Café on Portobello's seafront does everything from pancakes, to salads to ice cream sundaes.
Autumn
When the last of the summer visitors have gone and we've all got back into the swing of a new term, the Scottish Storytelling Festival is like a warm hug, easing us into winter. Come in out of the cold to hear stories being spun and take part in fun activities and hear all about the Celtic origins of Halloween, if you dare.
Where to stay
Few places leave you feeling quite as pampered as Edinburgh's indomitable Balmoral and that extends to kids, too. There is an owl turndown service, 24-hour babysitting, all kinds of baby paraphernalia offered for free, plus games and books for older children – even spa treatments for teenagers. Warning: your children will not want to leave.
Where to visit
Quite aside from the amazing Victorian Camera Obscura show itself, in which little folk can squash people as they walk around the streets of Edinburgh as though they were flies, kids love the crazy World of Illusions on the way up too.
Where to eat
Civernos is a reliable Edinburgh pizza place, centrally located, that isn't overpriced.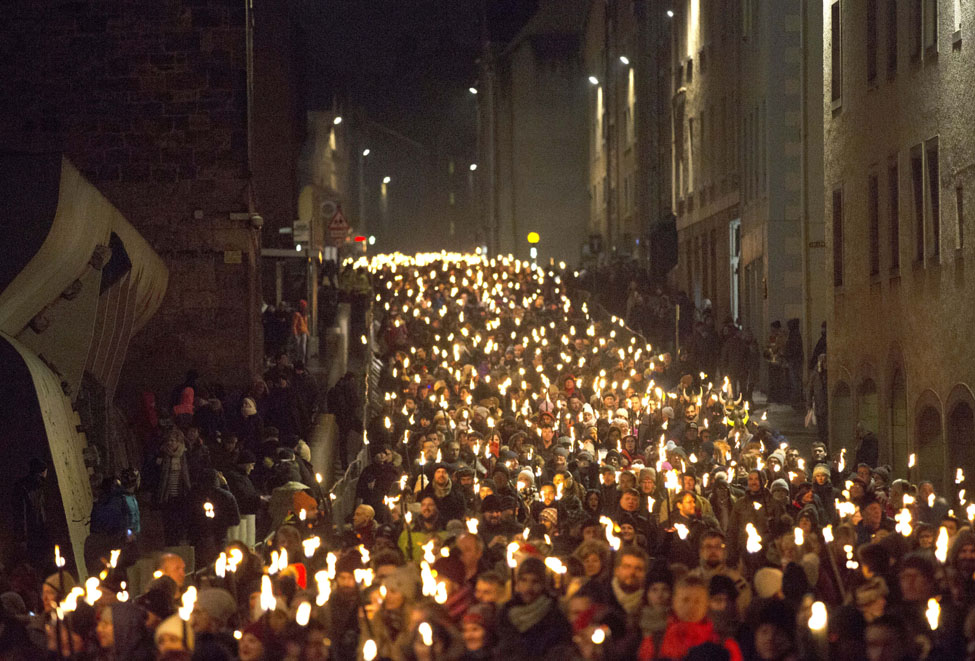 Winter
Winter can be a magical time in Edinburgh. There's ice skating and a funfair in and around Princes Street Gardens and St Andrew Square and then there's Hogmanay – probably the best New Year celebration in the whole of the UK. If you have little ones in your mix you can still join in the revelry. Watch agog as the torch procession trails through the streets of Edinburgh or get tickets for the Bairns Afore event, which gives you the chance to watch some fireworks at the castle before the small ones have tired meltdowns. Older kids (12+) can stay up past midnight at the Ceilidh under the Castle. The next day, the madcap Loony Dook swim in the Firth of Forth is good fun to watch, even if you don't want to participate.
Where to stay
If you want to dip in and out of the action, The Raeburn in the family-friendly neighbourhood of Stockbridge is a luxury boutique hotel that offers camp beds and travel cots.
Where to visit
Go for a brisk walk or play in Interleith Park (if you can cope with the weather) or pop into Golden Hare Books for a leisurely browse in the warmth before you buy.
Where to eat
Tom Kitchin's Stockbridge gastro pub, the Scran and Scallie has a mini lounge for children, so they can go watch cartoons while you finish dinner.
Sally Coffey