Around the world at The Royal Edinburgh Military Tattoo
By Dan James, Festivals Edinburgh Blogger in Residence.
The first time I went to watch The Royal Edinburgh Military Tattoo in 2016 I wasn't sure what to expect, or indeed if I would enjoy it. Within minutes of the show beginning though I was captivated by the perfectly timed performance and impressive music that rang through the evening. Tartan, bagpipes and Edinburgh Castle: you can't get much more Scottish than that, right?
But one of the most magical things about the Tattoo is it brings together and unites performers from around the world and celebrates the international community in the same way each of the other four festivals in August does. It seemed like the night flew by as the final fireworks set the sky alight and the more than 1000 person cast left the esplanade down the Royal Mile.
This year's show will celebrate "glorious symmetries" through precision-led performances with the British Army at the fore, complemented by the Massed Pipes and Drums, Pipers Trail, the Tattoo Dance Company and Hjaltibonhoga (Shetland Fiddlers), which are all confirmed to participate. The Royal Edinburgh Military Tattoo has also revealed Lyon-based Musique de l'Artillerie as the first international act to show its paces on Edinburgh Castle's iconic Esplanade this August.
Brigadier David Allfrey, Chief Executive and Producer, The Royal Edinburgh Military Tattoo, said:
2019's Show is all about light and colour. In 1816, the Scottish inventor Sir David Brewster was looking at objects through mirrors and he noticed how colours appeared in beautiful patterns.
This was the inspiration for his kaleidoscope, a wonderful device that delivered symmetrical yet ever-changing images. In turn, our Show will celebrate the geometry, colour and movement of our military and folkloric performers in their constantly changing patterns; all accentuated by world-class lighting, projections, sound and special effects. It is a fabulous project.
Every show is different, so even if you've been before, you're sure to see something brand new and have your breath taken away once again.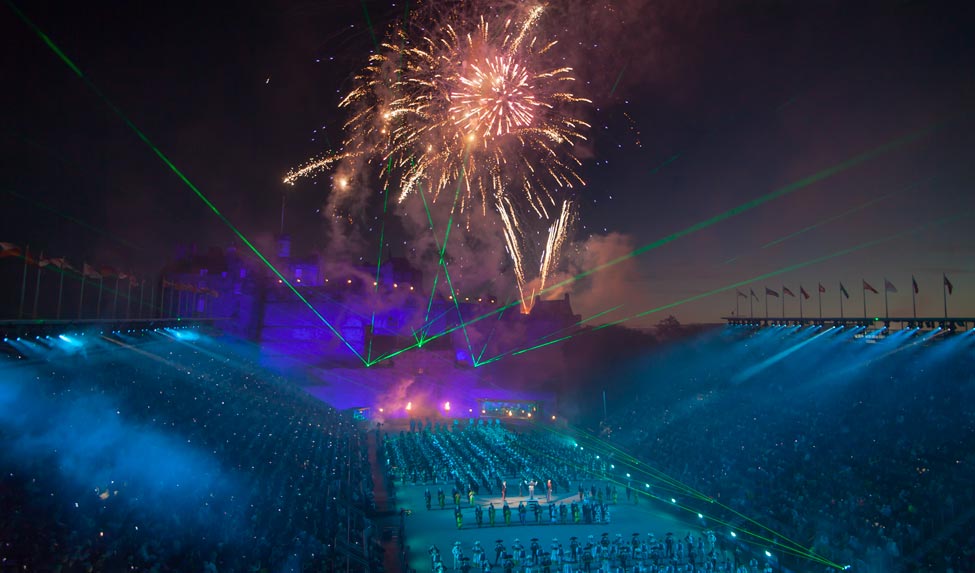 The Royal Edinburgh Military Tattoo takes place at the same time as four of Edinburgh's other major festivals, which between them celebrate just about every conceivable art form, making August an ideal time of year to experience the Festival City! Visit our Planning Pages for tips on creating your trip to Edinburgh's Festivals.