Edinburgh City Breaks
If you're already thinking about your next travel plans, who better to help you get started than Travel Blogger Dan Flying Solo? We asked him for his top tips on planning a city break to Edinburgh...
With a jam-packed calendar throughout the year, Edinburgh indeed is the Festival City. As someone who has been lucky enough to enjoy magical moments at many of these events, I can tell you first hand how a visit to Edinburgh, combining the old-world architecture and Scottish Charm with one (or more!) of the festivals is the perfect city break.
Here I'll share some tips and insights into the different festivals to help you plan your visit, leaving you with just the impossible job of deciding which festivals to attend.
The Eleven Edinburgh Festivals are:
Throughout the year, the cultural offering of Edinburgh's Festivals amass attendances of over 4.5 million and with nearly every month hosting something special, there's an event for all seasons.
April
In April the city comes alive with technology and scientific discussion, as the Science Festival, one of the largest science events in Europe, hosts around 250 workshops, discussions and activities in its two-week run. Perfect for families, adults and children, the Science Festival provides the ideal opportunity to learn more about the world around us.
May
For kids and big kids alike May sees the International Children's Festival come to life. The week-long event is packed with both local and international performances ranging from dance to theatre, all crafted to entertain children and young people.
June
June welcomes the longest continuously running film festival in the world back to Edinburgh, the International Film Festival. For 11 days, stars and future stars descend on Edinburgh for premieres of incredible new films and a celebration of documentary, drama and more. If you are into your movies, and the chance to meet the stars of tomorrow, this may be your perfect ticket!
July
The soothing sounds of Jazz and Blues can be heard across Edinburgh in July, as the largest festival in Britain dedicated to this style of music begins. Spanning ten days, and with around 170 different concerts, this is a music lovers' dream. Whether you want to listen to Scottish talent, or discover new international artists, the Jazz and Blues festival will undoubtedly keep you entertained.
August
With the summer days in full swing, the busiest month of the Edinburgh Festivals calendar is upon us. August is when the whole city is transformed into a buzzing land of entertainment, from the buskers on street corners to the takeover of the castle esplanade: August means one thing in Edinburgh.
Whether you want to discover the hidden gems of the city on an art tour with the Edinburgh Art Festival, or unwind with a new read and join a panel discussion in the tents of the Edinburgh International Book Festival, August in Edinburgh can be as relaxed or as full on as you like.
Alongside the Art and the Book festivals, which I really must stress shouldn't be overlooked as some of my favourite memories have come from here, there are three more world-famous festivals that take place in August:
The Edinburgh Festival Fringe is one of the most celebrated events in the world, and at venues, stools, and street corners across the city you can dive into the magic. With over 50,000 performances taking place in August and tickets ranging from free (remember to tip) to more structured events, this is honestly a bucket list festival, and I feel so lucky to have attended three years on the trot.
Running at the same time as the Fringe is the 'original' Edinburgh festival, the Edinburgh International Festival. Showcasing the very best of international performing arts companies since 1947, the programme for this festival always surprises me. From classical opera to headline-hitting international bands, last year saw the use of the Leith Theatre as the festival expanded across the city. The programme for this year will be announced in March and will no doubt match the diversity of previous years.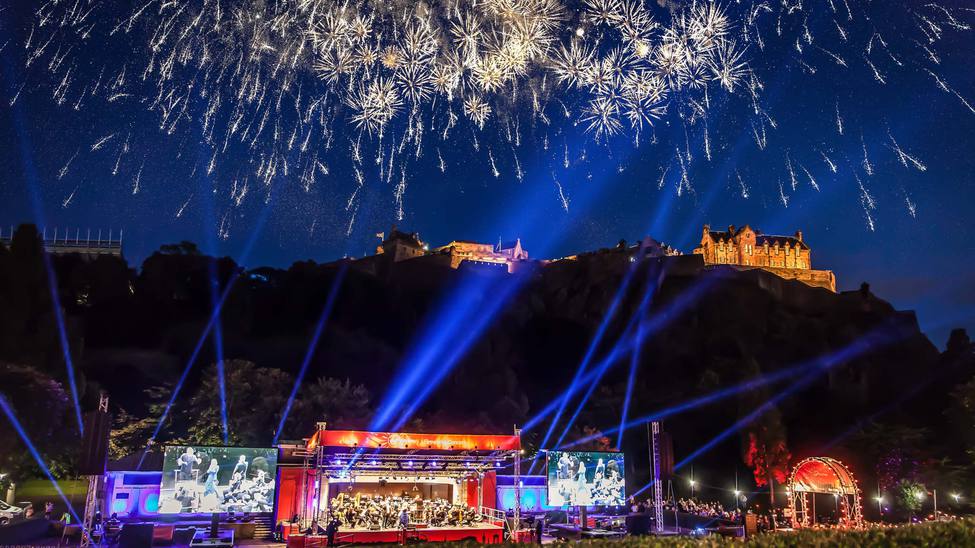 It wouldn't be Edinburgh without a mention of the beloved Edinburgh Castle, and what better time to see it than in August. The Royal Edinburgh Military Tattoo really is one of those shows that will leave you speechless, as it has done to me twice now. Set against the backdrop of the castle, a 100-minute spectacle featuring 1000 performers from around the world leaves the audience feeling electric. Don't just be one of the 100-million people watching it on TV, be sure to secure your ticket early to enjoy the event in person. Tickets usually go on sale in December.
October
With September a month off on the festival calendar, for the city to breath following the mayhem of August, October welcomes the Scottish International Storytelling Festival. For ten days stories, poems, music and storytelling play out in a relaxed, yet just as exciting, festival that is held at venues across the city!
December
Wow! After all of that, the year has to end with a bang, and Edinburgh's Hogmanay always promises just that. People descend on the Scottish capital as a crowd made up from over 80 countries celebrates the new year. While the epic party on the 31 might seem like the main event, thanks to the fireworks, music, performers and dancing on the street, The Torchlight procession on the first day of the festival, which sees bright flames marched across the city, is the one I urge you not to miss!
Phew! What an event calendar eh? So now I've given you the lowdown on what is going on in Edinburgh over the coming year, let me give you my five top tips to help you plan, and make a steaming success of your festival visit!
Is Edinburgh an easy place to get to?
Edinburgh is well connected, for those travelling within the UK there are multiple train and bus connections to Edinburgh which provide a cost-effective, environmentally friendly and often scenic way to attend the festivals.
The city is also linked to the wider world thanks to a large number of flight routes serving Edinburgh International Airport. With direct flights available from Europe and beyond, it couldn't be easier to get to the festivals. Quick and comfortable bus and tram links connect the airport to the city.
Once you have decided which festival to attend, get booking those tickets as travel to Edinburgh can get booked up fast!
Where should I stay in Edinburgh?
Whatever your budget, Edinburgh has the perfect accommodation for you. From hostels to five-star hotels and private apartments, you can tailor your festivals experience to suit your budget. What I will say is booking accommodation as far in advance as possible is the best idea, especially in August when the population can double. Housing will likely be your most significant cost, so even if you only secure a reservation with a cancellable booking, it's best to get this planned as early as possible.
During the University holidays, you can also find the student accommodation opening their doors, and this can provide a great value option for festival accommodation.
How will I get around the city?
Edinburgh is a compact city, and if you are staying near the centre, you can likely spend most of your trip on foot. Be sure to pack comfy shoes, as if you are seeing multiple events in one day there will be plenty of walking. In August with so many happy people enjoying street performers, and bearing in mind you might want to stop to watch them too, it's worth adding some extra time to any walking directions.
Edinburgh's Festivals want to make the experience as accessible as possible for anyone who attends them and while much of the city is flat, it is an old city and some venues, especially the smaller ones, may not be fully accessible. The Festival websites have details on venue accessibility, so it's best to check them out beforehand.


Should I book tickets in advance?
While spontaneity is part and parcel of the festival experience, for specific events, booking is not just recommended but essential, especially if you want to secure the best seats in the house.
For events such as The Royal Edinburgh Military Tattoo, Hogmanay, or some of the most famous names at the other festivals, I would urge you to book tickets in advance. Take a look at the individual festival websites to stay on top of programme announcements and on sale dates. At the same time, don't forget just to enjoy the moment and discover new talent and events on the spot.
How much should I budget for an Edinburgh Festivals trip?
The cost of a festival trip will vary depending on what festival, what month, and what you want to see and do.
Excluding accommodation and transport, for £20-50 at most of the festivals you would be able to enjoy a one or two shows/events and grab some cheaper food out. For those wanting the best seats to the most famous shows, or VIP Hogmanay tickets, your budget might be closer to £150+ a day.
My tip is when you are budgeting for your Edinburgh Festivals trip is always to allow an 'emergency pot' as I promise you that while you're in Edinburgh, you may decide to see something you didn't know was on, or to enjoy some of the city's year-round attractions.
Social money is also something to keep in mind, as the many pubs, restaurants and tempting food stalls can quickly become tempting but ultimately, your festivals visit can be as affordable or extravagant as you wish.
If you need any more tips or inspiration for your festival visit from me, be sure to head over to the Dan's Festival City hub where there are plenty of articles from my time at the festivals. But for now, get booking those tickets and hopefully see some of you enjoying the unique atmosphere of Edinburgh's Festivals soon!
Dan Flying Solo is a travel blogger, content creator and photographer. Visit his website to keep up to date with his travels around the world. And for even more tips on how to make the most of a visit to the Festival City, take a look at our planning pages!
Want news and features about Edinburgh's major festivals delivered straight to your inbox?
Sign up for our regular enewsletters!