A Year of Edinburgh's Festivals: 18 from 18
In what may seem an impossible feat, we have selected just 18 of the best images from Edinburgh's Festivals in 2018!
Scroll on to discover some of last year's highlights...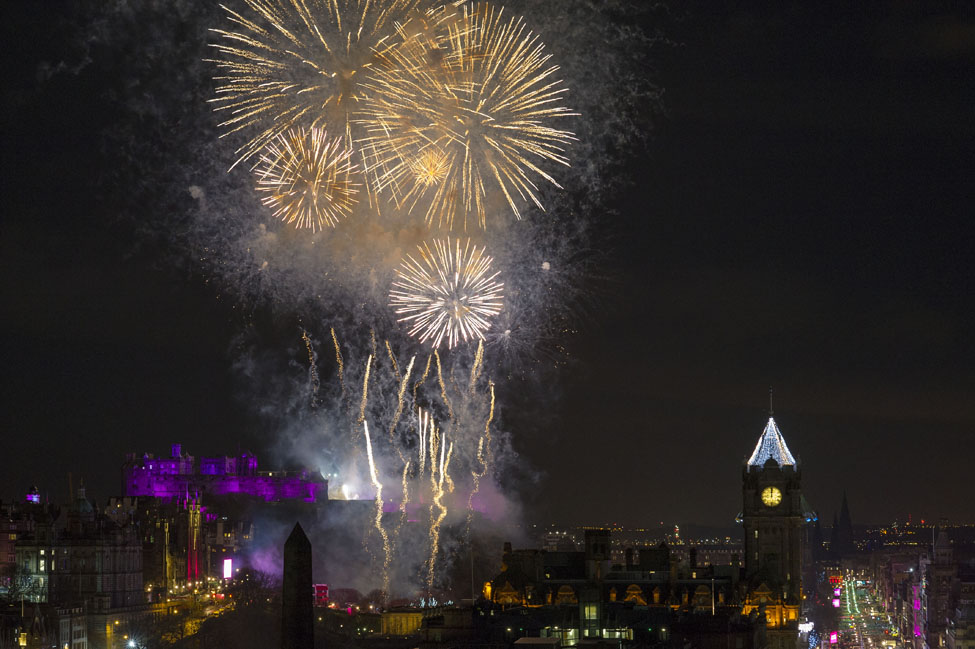 Edinburgh's Hogmanay kicked off 2018 in style with a dazzling fireworks display rising from Edinburgh Castle and accompanied by a soundtrack from Skye band Niteworks, fusing electronic beats with pipes and Gaelic song. Image: Ian Rutherford
The thirtieth edition of the Edinburgh International Science Festival saw the Grand Gallery at the National Museum of Scotland taken over by Event Horizon, a mammoth rotating balloon sculpture by artist Jason Hackenwerth. Image: Ian Georgeson
Also taking place in the museum's Grand Gallery, the Edinburgh International Children's Festival opened with a vibrant weekend of free pop up puppetry, performance and dance. Across the festival, a feast of theatre was on offer at various venues, with visiting companies from Australia, South Africa and Germany featuring alongside home-grown talent. Image: Ruth Armstrong
Marking 2018 as Scotland's Year of Young People, the Edinburgh International Film Festival hosted incredible workshops, events and screenings, inspiring young people eager to get involved in the film industry. Pictured above, Kevin Guthrie (Sunshine on Leith, Sunset Song) took part in one of the Q&A sessions. Image: Rob O'Donnell, EIFF
This year's film festival came to a close with the premiere of Swimming With Men, a delightful feel good comedy starring Rob Brydon. Brydon attended the closing gala along with many of his co-stars, papped perfectly on the red carpet in this film reel style shot. Image: Rob O'Donnell, EIFF
Generating an immense energy among the crowds at Edinburgh Jazz and Blues Festival, KOG and the Zongo Brigade brought their infectious west African beats to George Square this summer.
Edinburgh Art Festival not only offers up a feast of exciting new artworks and exhibitions, but interesting partner galleries and pop up spaces to match. This shot of Jupiter Artland at dusk, taken by blogger-in-residence Dan James at Art Late, perfectly captures the magic of just one of those special places.
Another of this year's Art Festival venues, Trinity Apse, offered a space for calm reflection. The former church was opened up specially for the festival and housed a poignant installation, Triptych, which explored themes of forced migration. Image: Dan James
Opening the Edinburgh International Festival in spectacular style, Five Telegrams was a free outdoor digital and live performance marking the Year of Young People and reflecting on the centenary of the end of World War One.
One of the hits of this year's International Festival programme was Light On The Shore, a series of contemporary Scottish music concerts taking place in Leith Theatre, an iconic art deco venue. Image: Joan As Police Woman by Dan James
Reimagining the High Street space for 2018, the Fringe Society embraced new technology becoming the first 'tap to tip' festival enabling buskers to receive payments via contactless payment methods. Another highlight of this iconic August space in 2018 was the giant 'Fringe' lettering, which kids (and big kids!) loved to clamber on. Image: Dan James
As the world's greatest platform for creative freedom, the Edinburgh Festival Fringe in 2018 had everything from physical theatre to comedy to exhibitions and everything in between. Tabernak at the Circus Hub was just one of over 3,000 shows in this year's programme, captured here by Dan James.
As international as ever, The Royal Edinburgh Military Tattoo hosted military performers, musicians and dancers from all over the world. This image perfectly captures the dedication and skill required to perform in this incredible show, as visiting pipers from Australia warmed up prior to their evening performance. Image: Dan James
Another country represented at the Tattoo in 2018 was Oman, whose horses, musicians and eye-catching projections made for a dazzling display. Image: Dan James
With the theme of Freedom, the Edinburgh International Book Festival asked big questions and explored challenging ideas this year. Pictured here is Zindzi Mandela, whose book for children, Grandad Mandela, tells the story of her father, Nelson. Image: Suzanne Heffron
Charlotte Square Gardens and George Street provided a delightful haven for Book Festival-goers and the picture perfect Gardens were captured in this shot, featuring some lovely blue skies! Image: Dan James
At the Scottish International Storytelling Festival, the theme of Growing Stories saw events taking place in Edinburgh's beloved green parks and gardens. This snap on a sunny day is from Dr Neil's Garden in the city's Duddingston neighbourhood. Image: Colin Hatersley
2018 came to a fiery conclusion in Edinburgh as 20,000 torchbearers took to the streets for the Torchlight Procession, culminating in the creation of a giant outline of Scotland in Holyrood Park! Image: Tim Edgeler
With so many incredible moments, 2018 was an unforgettable year in the Festival City. If you'd like to plan a festivals trip of your own, take a look at our planning page, or sign up to our newsletters to keep up to date with news and tips.
---
Sign up for our regular enewsletters to have news and features about Edinburgh's major festivals delivered straight to your inbox