How the Festivals Celebrated Scotland's Year of Young People
Throughout 2018, Edinburgh's Festivals have celebrated Scotland's Year of Young People, through tailored programming, special events and direct involvement of young people in the planning and delivery of the festivals.
Special Events
The Year of Young People kicked off in spectacular, if slightly early, fashion on 30 December 2017, as Edinburgh's Hogmanay delivered the opening moment. Hogmanay's much loved Torchlight Procession wound its fiery way through the historic streets of the Scottish Capital as usual but at its end a special arrangement of some of the 10,000 torchbearers spelt out the word #Braw - a word (meaning "very good") which had been chosen from hundreds submitted and chosen by young people to be 2018's #ScotWord.
With the Year of Young People up and running in such dramatic fashion, the Edinburgh International Science Festival had a lot to live up to, and they delivered in breath-taking fashion with a mammoth balloon art commission, Event Horizon by artist Jason Hackenwerth. Event Horizon was the striking centrepiece of the exhibition Existence: Life and Beyond, which was specially created for the Year of Young People celebrations by The Youth Consultation Group.
The group devised events for the programme relevant to them and the world of science, technology, engineering and maths, including creating and running a hands-on crime scenario, Escape the Fake, several pop-up events and the Mini Maker Faire on the last day of the Festival.
June's Edinburgh International Film Festival saw its The Young and the Wild strand highlight cinematic work by, for, and about young people, with a range of screenings accompanied by events, talks, workshops and masterclasses. Delivering masterclasses this year were the likes of Pixar's Character Tailoring Lead, Fran Kalal, cinematographer Urszula Pontikos and Film Festival Screenwriter in Residence Nicole Taylor.
August saw young talent celebrated at the Edinburgh International Festival through the semi-finals and final of the prestigious Eurovision Young Musician award, held in Scotland for the first time. At the Edinburgh Festival Fringe, off-stage talent was also championed through the inaugural Fringe Young Writers Award which went to Flora Gosling for her writing about Fringe shows in The Wee Review. And at Edinburgh Art Festival the special Art Earlies and Art Lates events helped spread the love of great art to children and young people.
As well as providing a spectacular opening to the year, Edinburgh's Hogmanay will be closing Year of Young People with the #ScotArt project, in which young people from the 14 regions of Scotland have chosen a symbol to represent their area. These are being made into wicker sculptures which will form a special finale to the Torchlight Procession on 30 December.
Shows and Ticketing
While Edinburgh's Festivals always look to be inclusive and welcoming for all, 2018 saw a particular emphasis on programming reflecting issues relevant to young people.
This ranged from the expanded Film Festival Junior lineup at the Edinburgh International Film Festival, to the entire programme of the Edinburgh International Children's Festival and more.
Dozens of fun events for young discoverers were on offer at the Edinburgh International Science Festival, while Edinburgh Jazz & Blues Festival delivered its usual wide range of great music for all tastes, with sweaty club nights happily sitting alongside more traditional jazz and blues performers.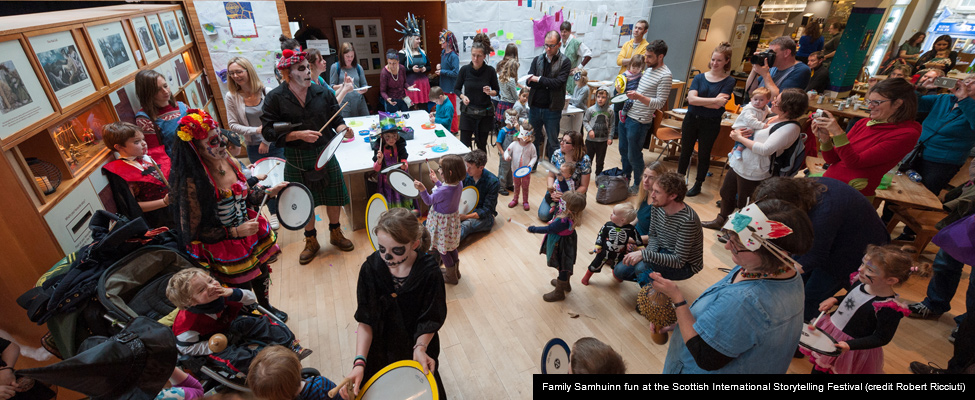 As always, the Fringe's mammoth programme had thousands of great shows for children and young adults alike, while October's Scottish International Storytelling Festival offered a great range of family events, many centred around Halloween. And at the Royal Edinburgh Military Tattoo the 2018 show was themed The Sky's the Limit, in reference to both the 100th anniversary of the Royal Air Force and the spirit of opportunity and potential celebrated during the Year of Young People.
The Film Festival offered under 16s the chance to get tickets for just £5 for family screenings, and the Edinburgh International Festival saw over 1000 free tickets to classical concerts claimed by community and youth groups, while a further 600 were issued to Edinburgh's young musicians through the Young Musicians Passport scheme.
The International Festival also gave away 2500 tickets to young people for the Aberdeen Standard Investments Opening Event: Five Telegrams, with around 1000 given to young people from areas of multiple deprivation.
Delivering the Festivals
Five Telegrams was also an example of how young people were involved in making the Festivals happen in 2018, with the Edinburgh International Festival employing 40 young people in a range of roles from Wardrobe Assistants and Camera Operators to Digital Marketing Assistants and Film Co-ordinators and Editors.
The International Festival also featured 300 young dancers from across Scotland in an open-air performance of Akram Khan Company's Kadamati, at the Palace of Holyrood House. And in the Festival's classical music programme more than 600 young musicians from 50 different countries performed in youth ensembles.
At the Children's Festival, the opening weekend saw two days of fun family events which were planned by the Festival's Young Programmers group, while the Film Festival's Student Critics Programme helped support future film journalists, offering experience, skills, networking and mentoring opportunities to students with a passion for cinema.
The Fringe offered a similar opportunity through its Young Critics Programme, on which it worked with Youth Theatre Arts Scotland, and created programming and events opportunities through its Young Arts Professionals initiative and the Fringe Central Youth Panel respectively.
The Edinburgh International Book Festival also involved Young People in their programming, with a group of ten 8-14 year olds from Edinburgh's Craigmillar area helping to design the Codename F Project. The project, which included events featuring big names such as Julia Donaldson, David Walliams and Michael Murpungo, looked at issues like the environment, gender, free speech and religion. The programmers also designed a day of free drop-in activities focusing on how young people engage with society.
Throughout the Year of Young People, Edinburgh's Festivals have demonstrated their ongoing commitment and enthusiasm for involving young people at every stage of their planning and work. In doing so the Festivals have helped to inspire Scotland's next generation of creators, performers, audiences and cultural leaders.
---
Sign up for our regular enewsletters to have news and features about Edinburgh's major festivals delivered straight to your inbox