Planning your next Fringe? Find out the 2019 ticket on sale dates!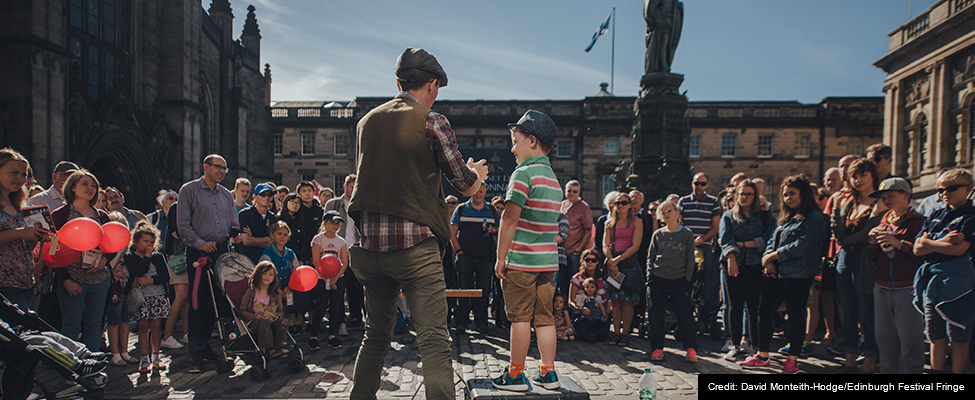 For anyone planning a summer holiday in Edinburgh this year, the Edinburgh Festivals are sure to feature highly on the list of attractions! And to help plan your Edinburgh trip, the Edinburgh Festival Fringe has revealed its schedule for early ticket sales.
The full Fringe programme will be launched on Wednesday 5 June 2019 but before that, Fringe fans keen to get organised will have numerous chances to book tickets in advance.
Tickets for selected shows will go on sale on the Fringe website every month in the first half of 2019, as follows:
Thursday 31 January
Thursday 28 February
Thursday 21 March
Thursday 18 April
Thursday 16 May
Wednesday 5 June - full programme launch
While we don't know yet what shows will be on sale, as always the Fringe (2-26 August 2019) will be packed with a huge and diverse range of arts and entertainment, including comedy, theatre, cabaret, dance, circus skills, live music, exhibitions, street performance and more.
In 2018, the Fringe saw more than 3500 shows take place during the three week run of the world's biggest arts festival, with performers from all over the world coming to Edinburgh to tackle a huge range of subjects, inspiring and delighting audiences.
Almost half of the tickets were taken by people from Edinburgh and the rest of Scotland, joined by culture fans from all over the world who made the trip to the Scottish capital, highlighting the enduring appeal of the Fringe for locals and visitors alike.
Edinburgh Festival Fringe runs from 2-26 August 2019. Tickets for selected events go on sale from January, with the full programme launched on Wednesday 5 June 2019.
Find out more about Edinburgh Festival Fringe, including links to programme and ticketing details. And visit our Planning pages for tips on creating your your trip to Edinburgh's Festivals.
---
Sign up for our regular enewsletters to have news and features about Edinburgh's major festivals delivered straight to your inbox