August Festivals Flying High Yet Again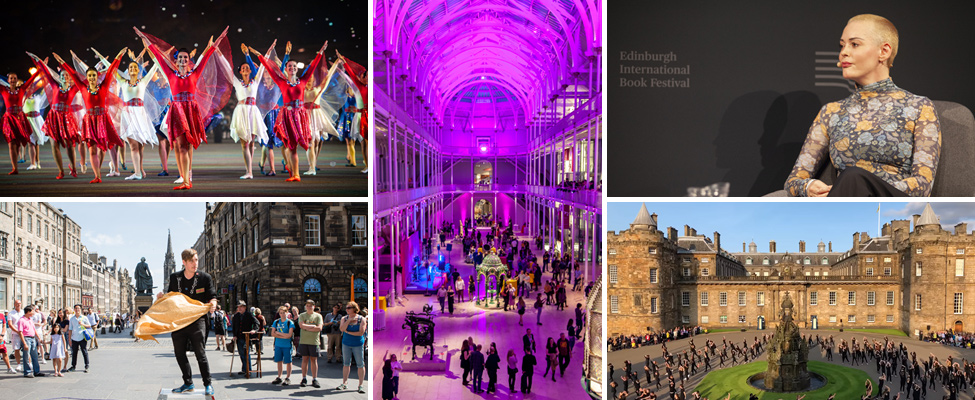 Edinburgh's world famous August Festivals are over for another year, and it's been another tale of fun, entertainment, inspiration, success and pizza in the Festival City. Yes, pizza.
Here's a look back over the five August Festivals and what they got up to this summer:

It was another year of soaring success for the Tattoo as they celebrated the 100th anniversary of the RAF with their 2018 theme, The Sky's the Limit.
The spectacular show took place in front of sellout crowds at every performance, the 20th year in a row the Tattoo has achieved the feat. And while the 220,000 spectators were being enthralled by the 1200 performers on Edinburgh Castle's esplanade, the Tattoo was also helping to raise a huge amount of money for its chosen charities.
An amazing £1 million will be distributed among 13 UK-based charitable military organisations and arts bodies bringing the Tattoo's total charitable contribution since 1950 to £11 million.
Rucelle Soutar, Head of Finance for The Royal Edinburgh Military Tattoo said:
Our core purpose is to sustain world-class shows in Edinburgh and abroad but underlying this is a passionate desire to support our national institutions and society more generally. In doing this, we want to help provide stability and offer a launch pad for future generations. So, we are beyond thrilled to mark our third consecutive £1 million donations in support for military, veterans and the arts.

As usual, Edinburgh Art Festival began slightly ahead of the other Festivals, giving early birds a chance to enjoy some exceptional work in late July, before the majority of visitors had arrived.
There was a superb selection to choose from with the Art Festival's programme including 50 exhibitions at more than 40 venues across the city, more than 85% of which were free to attend.
The Festival also delivered special commissions from the likes of Shilpa Gupta, Ross Birrell and David Harding, Ruth Ewan and Ian Savile, Adam Lewis Jacob and the four Platform:2018 artists, Annie Crabtree, Isobel Lutz-Smith, Rae-Yen Song and Renèe Helèna Browne.
In all, the Festival included the work of 412 artists, 103 writers and poets, and performances by 60 musicians and even 8 magicians.
There was also lots for art lovers to get involved with, in a programme of over 200 events including the hugely popular Art Late series and their daytime counterpart for families, Art Early. Members of the public also made, cooked and ate over 700 pizzas during Mud Oven Afternoons at Bobby Niven's Palm House, a beautiful legacy of 2017's Art Festival.
Art Festival Director Sorcha Carey, said:
Our 15th edition was quite literally magical. Bringing together over 50 exhibitions featuring 412 artists, including newly commissioned projects (such as Ruth Ewan's collaboration with magicians), the Festival expressed the extraordinary alchemy which results when a city's museums, galleries and artists join forces to celebrate the very best in visual art.

The 2018 Fringe encouraged fans to take a leap Into the Unknown this summer, an ambition made both extremely easy and devilishly difficult by the sheer range of amazing entertainment on offer.
317 venues across Edinburgh (ranging from huge theatres to a 3-person space in a chicken coop!) hosted a total of 3548 shows from just about every genre imaginable, with thrills and laugher, intensely emotional drama, stunning musical performances, wonderful displays of art and much more on offer.
With so much choice, leaping into the unknown was simple - narrowing it all down was the hard part! It was a challenge gladly met though, as shown by the Fringe's most impressive audiences yet, with over 2.8 million tickets issued, almost half of which went to people from Edinburgh and the rest of Scotland.
Shona McCarthy, Chief Executive of the Edinburgh Festival Fringe Society, said:
2018 has been another fantastic year for the Edinburgh Festival Fringe. Artists from around the world have flocked to Scotland's capital, delighting audiences with work that is exciting, shocking, entertaining, world class and often, hilarious. From cabaret to children's shows, invigorating dance and physical theatre, to life enhancing drama. Whatever the medium, so many Fringe artists help us to question the world around us and illuminate the most challenging areas of being human in new ways.

Seventeen days of debate, discussion and engagement between authors and audiences made for another hugely successful Book Festival, with booksales up 8% on 2017, and a record 260,000 people visiting Charlotte Square Gardens.
Freedom was the central theme of this year's Festival, with major names including Rose McGowan (pictured), Chelsea Clinton, Yanis Varoufakis, Maria Alyokhina, Ngugi wa Thiong'o and Ambassador Zindzi Mandela helping lead debate on topics such as identity, economics, migration and censorship.
Among the more than 800 events at this year's festival were over 200 aimed at families and children, with appearances from stars such as David Walliams, Harry Hill, Cressida Cowell, Julia Donaldson, Ade Adepitan and poet Eloise Greenfield.
And almost 14 thousand school pupils and teachers took part in the Baillie Gifford Schools programme, and as part of Scotland's Year of Young People the Festival worked with 10 young people aged 8-14 from Craigmillar in Edinburgh to create a strand of Freedom-related events.
Janet Smyth, Children & Education Programme Director, said:
It has been a delight to work with our ten Year of Young People co-programmers who have not only selected authors to appear in the Festival, but also created their own Freedom to be Heard activity which caught the imagination of audiences of all ages, challenging them to consider how young people view the world and the hopes they have for their own futures.

Scotland's Year of Young People was also a major part of this year's Edinburgh International Festival, with the breathtaking Aberdeen Standard Investments Opening Event: Five Telegrams setting the tone.
As well as featuring young singers spread among the huge crowd present, the light and sound spectacular also employed 40 young people in a variety of backstage and technical roles. Additionally, 2500 Five Telegrams tickets were given to young people, around 1000 of whom were from areas of multiple deprivation.
Young talent also featured strongly in the Festival's classical music lineup with over 600 young musicians from 50 nations joining the programme's wide selection of world-class performers. And at a special event at the Palace of Holyrood House, 300 young dancers performed in Akram Khan Company's Kadamati (pictured), marking 100 years since the end of the First World War.
Across the full Festival programme, 2,800 artists from 60 different nations took part in 85 productions and 180 performances, including the new Light on the Shore with Edinburgh Gin Seaside season, showcasing a range of contemporary Scottish music at the newly reopened Leith Theatre.
This expansion to Edinburgh's north east was just one part of the International Festival's continued commitment to working with local communities and increasing audience diversity, which also saw tickets worth more than half a million pounds issued free of charge or at discounted rates.
Councillor Donald Wilson, Culture & Communities Convener for the City of Edinburgh Council said:
Edinburgh in August is for everyone and I am delighted that this year's International Festival has built on its 70 years of success to become more inclusive and international than ever. This year's events have enabled tens of thousands of people from all over the Capital, from all walks of life - young and old - to take part in and enjoy incredible art, theatre, dance and music.
Edinburgh's August Festivals will return in 2019, so get planning! And don't forget that before then there are 6 more major festivals, including:
Scottish International Storytelling Festival | Edinburgh's Hogmanay | Edinburgh International Science Festival | Edinburgh International Children's Festival | Edinburgh International Film Festival | Edinburgh Jazz & Blues Festival
---
Sign up for our regular enewsletters to have news and features about Edinburgh's major festivals delivered straight to your inbox