Access and Inclusion at Edinburgh's summer festivals 2018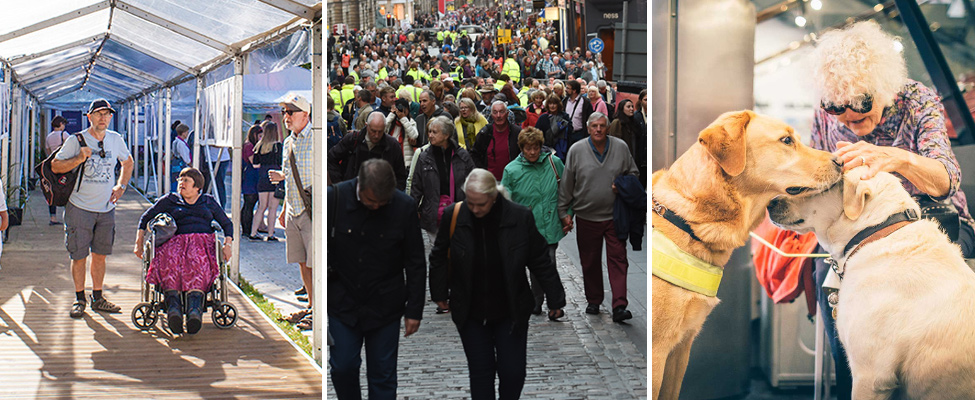 Every summer, Edinburgh welcomes hundreds of thousands of visitors to a multitude of events in a huge range of venues across the city - and while Edinburgh's trademark cobbled streets and old buildings can sometimes be difficult to access, the city's Festivals have been working hard in an effort to make the summer's exciting events open to all.
Here's a look at how Edinburgh summer festivals are enhancing their accessibility and inclusivity across the coming weeks of cultural fun.
13-22 July 2018
This year's Jazz Festival takes place across 13 different venues, with the vast majority accessible to wheelchairs - only the Jazz Bar and Heriot's Rugby Club are unable to offer wheelchair access due to the nature of the buildings.
The Jazz Festival also offers a free ticket for the companions of audience members who use wheelchairs or have mobility difficulties or visual/hearing impairment.
Audiences with access requirements are encouraged to contact Hub Tickets to discuss specific requirements, book tickets and get further information.


26 July-26 August 2018
Edinburgh Art Festival has partnered with disability access website Euan's Guide to provide up-to-date access information on each of their venues.
The majority of these are wheelchair accessible and audiences are encouraged to contact the Festival directly to discuss specific needs or advice on access to individual venues: Telephone 0131 226 6558 (Monday - Friday, 9am - 5pm) or email info@edinburghartfestival.com
You can also find an accessible version of the Festival's programme and guide on the Art Festival's website.



2-27 August 2018
The Edinburgh International Festival has published a comprehensive access guide with full venue access guides and information about accessible performances. The Festival brochure is also available in a variety of accessible formats.
For those with visual impairments, audio description is available at a number of performances as well as 'touch tours' which allow audience members to get up close to costumes and props prior to the show.
For deaf viewers or those with hearing impairments, captioning and supertitles are available, and a number of performances will be interpreted into British Sign Language (BSL). The Festival has also partnered with Inkblot Collective on the Deaf Theatre Club initiative, which provides BSL users with discounted tickets, prime seating and exclusive pre-show talks.
Find out more about accessibility at the International Festival


3-27 August 2018
Since 2015, the Fringe has partnered with charity Attitude is Everything to improve and champion accessibility and inclusion. The Fringe Society has produced an Attitude Charter of eight ambitions and introduced a Venue Access Award to encourage Venue Managers to prioritise accessibility.
The Fringe's Access Tickets service allows audience members to book specific requirements such as hearing loops, captioning services, wheelchair access and more. The service can also provide advice on specific venue access.
The Fringe programme this year also includes a number of performances which are signed, relaxed, captioned or audio described.
Sensory backpacks are available for those on the autism spectrum to borrow from the Fringe Shop at 180 High Street. During August, there will also be a Fringe Changing Place toilet located near Edinburgh University's Appleton Tower.



3-25 August 2018
Audiences can find detailed information about the physical accessibility of Edinburgh Castle's Esplanade on the Tattoo's official website, including exact walking distances and numbers of steps.
There are a number of wheelchair spaces in various sections of the Tattoo stands, as well as seating for those with restricted mobility.
Vehicle passes are also available for those with tickets to the disabled seating area and allow drivers (including taxis and ambulances) to transport audience members directly onto the Esplanade. Please note that vehicle passes cannot be used for performances taking place on a Saturday.
The Tattoo also provides specific assistance for those with hearing and visual impairments. A hearing loop system is available by reservation when booking tickets and audio description will be available at certain performances. Guide dogs can also be admitted in certain areas of the audience.
Find out more about accessibility at the Tattoo



11-27 August 2018
The Book Festival Village and all venues within it are fully wheelchair accessible, with free wheelchair hire available on site. Assistance dogs are also welcome. The festival site includes a Changing Places toilet as well as accessible toilets.
The Festival Programme is available in a number of accessible formats, and an easy-read PDF Guide to the Book Festival has also been produced for those with learning disabilities.
A number of Book Festival events will be British Sign Language interpreted and captioned as standard, and audiences can request interpretation at any performance by contacting the Festival.
For the first time, the programme also includes a number of interactive and multi-sensory Learning Disability Friendly events, designed in collaboration with learning disability charity PAMIS.



Changing Places toilets
During August, central Edinburgh will have five Changing Places, accessible toilets with an adult-sized changing bench and hoist, for people who are unable to use a standard accessible toilet.
The Changing Places toilets are located as follows (or here's a map showing them all):
Fringe Changing Place, corner of Windmill Street and Chapel Street, EH8 9LE, 10:00 - 22:00 (3 - 27 August).
The Booking Office Pub, Waverley Bridge, EH1 1BQ, 6:00 - 00:00.
National Museum of Scotland, Chambers Street, EH1 1JF, 10:00 - 17:00
The Scottish Parliament, 1 Horse Wynd, EH99 1SP, opening hours vary - visit changingplaces.org
Edinburgh International Book Festival, Charlotte Square, EH2 4HQ, 10:00 - 00:00 (11 - 27 August)
Across the summer Festivals, collaboration, learning and a commitment to inclusion has seen great progress when it comes to accessibility.
With the city's Festivals and venues working hard to meet a range of different needs, more people can look forward to an exciting summer of Edinburgh events than ever before.
Find out more about accessibility at Edinburgh's year round selection of Festivals
Want news and features about Edinburgh's major festivals delivered straight to your inbox?
Sign up for our regular enewsletters!