Children's Festival opens with free family weekend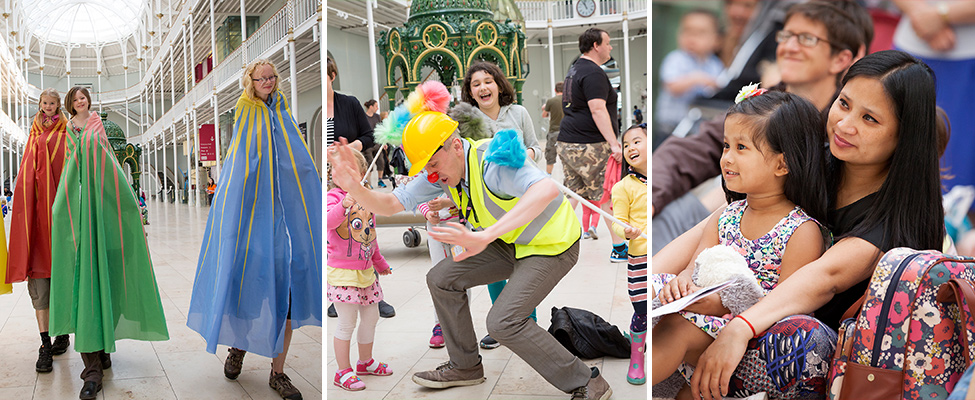 The Edinburgh International Children's Festival gets underway on Saturday 26 May, and to get everyone in the mood, the National Museum of Scotland will host a weekend of free family fun.
The Festival (26 May - 3 June 2018) features 14 productions from 12 different countries, and offers top class theatre and dance entertainment for young people ranging from babies to teenagers.
Opening proceedings on 26 and 27 May will be a weekend of free family events and activities at the National Museum of Scotland, with the chance to enjoy live music, pop-up performances, storytelling, art activities and more.
In Scotland's Year of Young People the Festival's six Young Associates, aged between 17 and 24, have helped put together a weekend to entertain children and adults alike. And with 9 days of great shows on offer as well, the Festival is sure to put plenty of smiles on young faces.
Edinburgh International Children's Festival's director Noel Jordan said:
In a year where Scottish children's theatre has been under threat while being praised globally, the Festival is a great opportunity to celebrate our home grown talent. It is also a unique opportunity to welcome the best of what the world has to offer onto our Edinburgh stages for local audiences to enjoy. I have relished putting this programme together over the last 18 months and hope many children and their families will experience together the wealth of stories and visual treats on offer.
Some of the highlights of the 2018 Festival include:
Loo (2-5 years) a visually stunning show from Spain with lots of music, which tells the story of the wind and its effects on deserts and wetlands
Ogo (2.5-6 years) a Canadian production in which 3 strangers become friends with the help of a mysterious puppet
Expedition Peter Pan (7-12 years), a hilarious show from the Netherlands featuring bored office workers rediscovering the power and magic of play
Eddie and the Slumber Sisters (8-13 years) from Scotland's Catherine Wheels, featuring the chaotic dreams of a bereaved child and the all-singing trio who watch over her.
Tickets are still available for most public shows, although with the entire schools programme of over 5500 tickets now completely sold out, booking is definitely recommended!
Edinburgh International Children's Festival runs from Saturday 26 May to Sunday 3 June 2018.
Find out more about the full programme and book now at www.imaginate.org.uk/festival
Want news and features about Edinburgh's major festivals delivered straight to your inbox?
Sign up for our regular enewsletters!