Fringe 2018 - early shows on sale now
Wednesday 6 June is the date for fans of the Edinburgh Festival Fringe to circle in diaries, with the full programme set for launch that day. And, for those wishing to get booking as soon as possible, some shows have already gone on sale.
This year's Fringe (3-28 August 2018) will be packed with another huge and diverse range of arts and entertainment, including comedy, theatre, cabaret, dance, circus skills, live music, exhibitions, street performance and more.
The first tickets for 2018 are now on sale at tickets.edfringe.com, and more will be made available throughout the spring, as follows:
Initial launch Thursday 1 February
Thursday 1 March
Thursday 22 March
Thursday 19 April
Thursday 17 May
Wednesday 6 June - full programme launch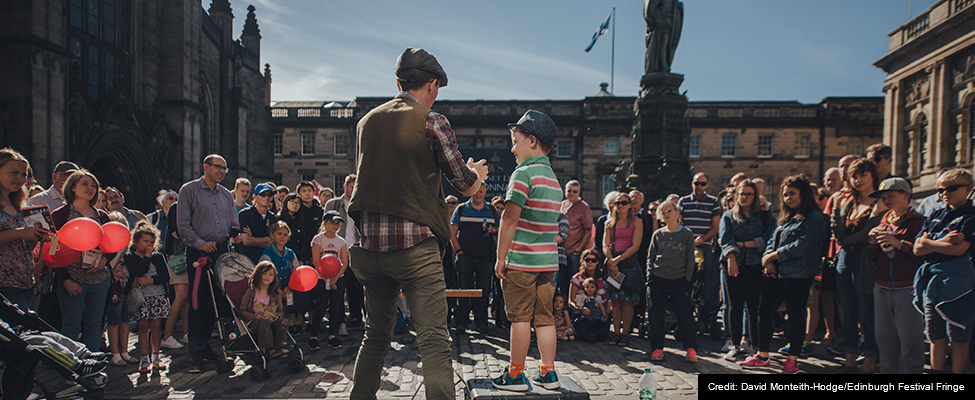 In 2017, the Fringe broke new records, with an estimated 2.7 million tickets issued across the three week run of the world's biggest arts festival.
Copies of the 2018 Fringe Brochure will be available at locations across the city after Wednesday 6 June, or if you would prefer you can also arrange to have a copy sent direct to your door.
Edinburgh Festival Fringe runs from 3-27 August 2018. Tickets for selected events are on sale already, with the full programme launched on Wednesday 6 June.
Find out more about the Festival, including links to programme and ticketing details. And visit our Planning pages for tips on creating your your trip to Edinburgh's Festivals.
Want news and features about Edinburgh's major festivals delivered straight to your inbox?
Sign up for our regular enewsletters!