Give someone the Edinburgh Festivals for Christmas!
When choosing a great Christmas gift it can be tough to find that perfect mix of the exciting, the unique and the memorable. Luckily though, a trip to Edinburgh's Festivals offers all those things and more!
Here's how you can treat someone special (or even yourself - go on, you've earned it!) to a fantastic break in a stunning city offering so many truly special experiences.
Extraordinarily exciting
10... 9... 8... 7... 6... There's something beautifully simple, and yet utterly compelling about a countdown to the end of one year and the start of another.
Surround that magic moment with a 3-day festival though, featuring a river of flaming torches, 80,000 revellers enjoying live music across multiple stages, a huge traditional Scottish ceilidh, a thousand costumed people leaping bravely into a freezing river, and much more... well, then you've got the best, most exciting new year party in the world - Edinburgh's Hogmanay.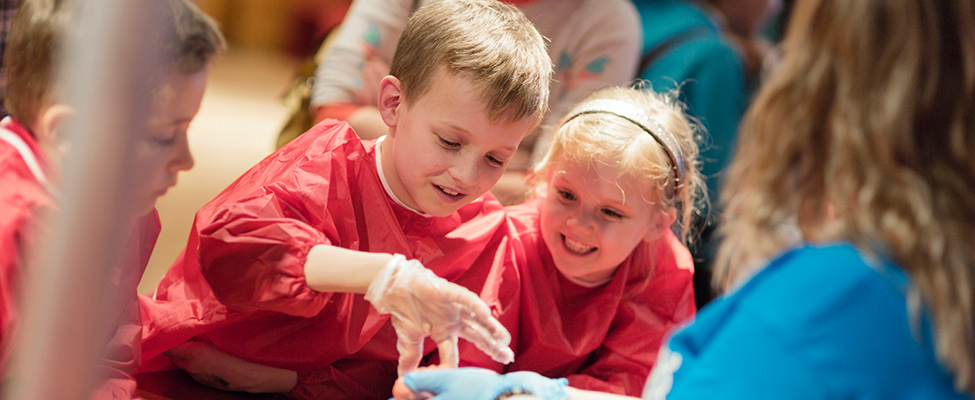 Maybe Hogmanay is just a bit too short notice for this year though? No worries. If you're thinking of a spring break, then there are thrills aplenty to be had at April's Edinburgh International Science Festival.
As well as loads of top notch scientific debate and discussion there are loads of opportunities to make things fizz, puff and bang, as adults and kids alike get hands on with some exhilarating experimentation!
Want a bit of Hollywood glamour? Not a problem - just come to Edinburgh in late June to see star names adorning the red carpet at the Edinburgh International Film Festival.
And although you might come for the stars, you'll stay for the movies as the festival's extensive and painstakingly cultivated programme of premieres, new indie talent and retro classics reminds you just why you love cinema.
But maybe outdoor thrills are more your cup of tea? Edinburgh has that too, not least in the incredible 250 metre stretch of bizarre, ridiculous, breathtaking awesomeness that is the High Street during the Edinburgh Festival Fringe.
You'll find huge crowds gathering to enjoy street performers of all kinds, while at every turn, be-costumed artists try to convince you that theirs is the show to choose from the 3000 or so on offer right across the city. It's intense, it's fun and it's something every August visitor must try at some point!
Utterly unique
If you want to make sure that your lucky giftee has an experience unlike any other, then The Royal Edinburgh Military Tattoo is for you. There's really nothing in the world that compares to the sight, sound and sumptuous setting of this amazing spectacle.
With Edinburgh Castle providing a majestic backdrop, hundreds of performers from the British armed forces and across the world put on a display full of precision, music and tradition every August. Nowhere else on Earth can offer such a show - so it's no wonder the Tattoo has sold out for the last 19 years in a row.
Edinburgh International Festival meanwhile, delivers three weeks of world class arts and entertainment at a scale not easily achieved by any other UK arts organisation. From the biggest names in classical and contemporary music, to major new theatre, opera and dance productions, excellence is at the heart of the International Festival.
And it's as part of the Festival that Edinburgh has witnessed a range of truly awe-inspiring outdoor events combining music, light, animation and the landscape and architecture of the Scottish capital - truly unique experiences for those lucky enough to have visited the city at the right moment!
The city is truly transformed during August's five festivals, and Edinburgh Art Festival is a major part of that metamorphosis. Not only does the Festival bring together more than 40 of the city's museums and galleries to showcase work both historic and contemporary, but in its annual commissions programme new and unique pieces of work appear for the first time.
And in keeping with the theme of transformation, some of these commissions form permanent parts of the city itself, including Martin Creed's beautiful revitalisation of the famous Scotsman Steps and the spectacular arch of light and colour that is Callum Innes's Regent Bridge piece (above).
Later in the year, as the nights are drawing in, the Scottish International Storytelling Festival offers one of the most admired storytelling events in the world. It's also the largest of its kind, both in terms of the range of performances and events, and the sheer number of audience members participating, with more than 25,000 annual attendances in recent years.
Gathering the very best in Scottish and international live storytellers, the Festival's wealth of cultures, traditions and styles offer an experience like no other - perfect for an autumn break in Edinburgh..
Magnificently memorable
July's Edinburgh Jazz and Blues Festival is two weeks packed full of superb music from across the genres and beyond, demonstrating the immense depth and variety of music covered by the words 'jazz' and 'blues'. Personal taste will influence which shows and performers linger longest in the mind of course, but two huge open-air events on the opening weekend of the Festival are particularly unforgettable.
Whether it's Saturday's joyous multi-stage Mardi Gras, full of the sweet sounds of New Orleans, or the incredible feast of music, costume and acrobatics that is the Edinburgh Festival Carnival the following day, the memories will last long after the final note fades.
If you're looking for entertainment for younger culture-lovers, the springtime Edinburgh International Children's Festival is a must. The festival may be for young people, but there's nothing childish about the quality of the programme, with world-class shows aimed at babies, young adults and everyone in between.
Offering a wonderful mix of themes, both silly and serious, a visit to the Festival is one which will inspire kids of all ages for years after they visit and throughout their lives.
And children are very well catered for at the last of our festivals too, with August's Edinburgh International Book Festival featuring a huge children's programme of events and authorial appearances. This range isn't restricted to the young ones of course, and for adults there will be plenty of memories to cherish too.
That might come from the thrill of experiencing your favourite authors reading from and discussing their work, or perhaps the simple enjoyment of relaxing with a good read in a peaceful, green and sunny space. And who knows, you might even glance up and realise that your book's author has joined you on the adjacent deckchair!
Edinburgh's Festivals offer an unparalleled year-round range of events, entertainment and experiences - perfect for treating someone special this Christmas.
Full dates for Edinburgh's coming festivals | Plan your trip to Edinburgh
---
Sign up for our regular enewsletters to have news and features about Edinburgh's major festivals delivered straight to your inbox