Festivals on a budget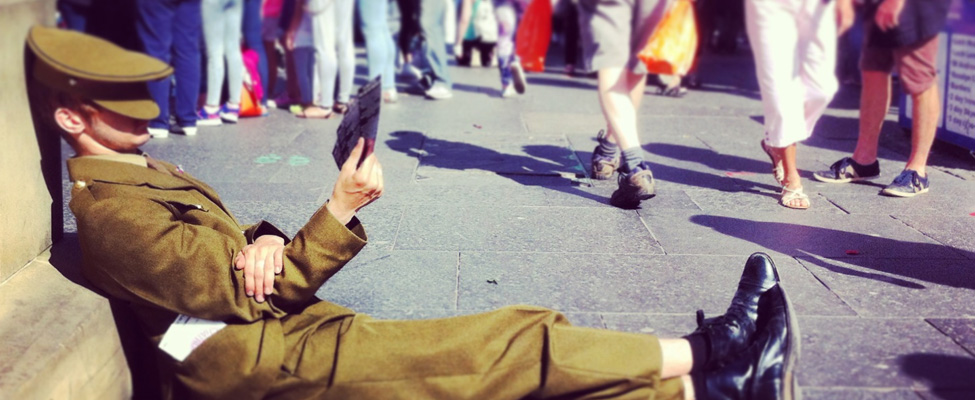 Want to enjoy Edinburgh's festivals without spending more than you have to? Let us help you discover how to have a great time for less, here in the festival city!
Edinburgh has something for everyone with a range of different festivals spread through the year, all of which offer great ways to make your money go further.
In general
Link up online - sign up for festival emails and connect with festivals on social media - if there's a venue needing filled, this is where you'll hear about bargain tickets at short notice!
Ctrl+F is your friend - get onto a festivals website (or, even better, their online brochure) and search the text for words like "free", "cheap", "bargain", "early bird" and so on - it's easy to miss them if you look through on your own but a quick search can uncover some hidden gems.
Soak it all in - it's easy to focus on events and performances - but there's a lot to be said for just enjoying being in the middle of things. That could mean relaxing in one of Edinburgh's lovely green spaces, wandering through lively streets full of festivalgoers or having a natter with someone over a coffee or a pint. Edinburgh is the festival city, and the city is as much a character in it all as the festivals - enjoy it!

Festival by Festival
In Spring, there's the Science Festival with a range of completely free events and exhibitions, plus lots more at bargain prices or with great concessions available.
Shortly afterwards comes the Edinburgh International Children's Festival of performing arts for children and young people - unsurprisingly, families are well taken care of, with discounted tickets for family groups. The Festival's Schools programme also offers free performances for schools in cases where the school does not have the resources to support a visit.
The Film Festival is next up, and along with a range of discounts of buying tickets for multiple films, there are free events, exhibitions and workshops, the chance to sign up for emails offering special deals, and of course the festival's much loved open air free screenings.
Speaking of open air free events, they don't come much more open, colourful or loud than the Jazz Festival's Mardi Gras and Festival Carnival events on the opening weekend. Hundreds of brightly dressed musicians, dancers and acrobats entertain the crowds along Edinburgh's city centre streets, so get there early to grab a good spot.
Suddenly it's August and the full on, wonderful chaos of Edinburgh's summer festivals! You'll find many early Fringe performances heavily discounted (or even offered free on Edinburgh's streets) in order to create a buzz, plus there are often special discount coupons to be found in newspapers and magazines.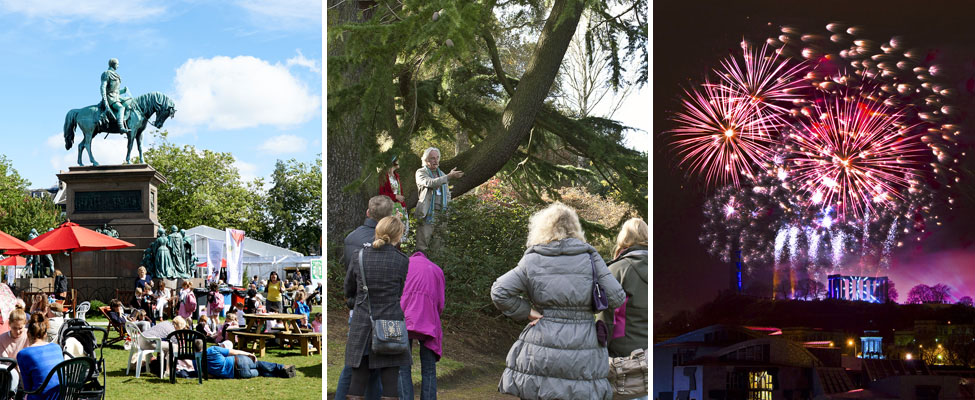 Then there's the Art Festival, where the vast majority of exhibitions and events are completely free to attend, and the Book Festival's base at Charlotte Square Gardens - an idyllic spot to hang out and just people-watch in the warm sunshine.
If you fancy some bright lights and loud bangs, both the Tattoo and the Edinburgh International Festival feature some brilliant fireworks which can be enjoyed from locations across the city (although obviously there's nothing quite like being there for a close up view). The former has a display after each performance, while the latter's end of August's fireworks concert is a perfect way to round off another Edinburgh summer.
After the summer draws to a close, it's time for a more contemplative and relaxed event, and the Storytelling Festival is just the ticket. As the nights draw in and the temperatures edge downwards, there's much enjoyment and value to be had by heading to one of the festival's many free events and exhibitions for some bewitching tales and fascinating insights.
To round off the year, there's the 3-day magnificence of Edinburgh's Hogmanay - and even if you choose not to buy tickets for the Street Party or Concert in the Gardens (though they're well worth it!) there's plenty to enjoy. Line the streets on 30 December to witness an amazing river of fire in the Torchlight Procession, enjoy the fantastic new year's eve fireworks from locations across the city and enjoy Scot:Lands on 1 January, a free cultural treasure hunt which will lead you from one hidden venue to another.
Get in the back door
Fancy enjoying the festivals from an insider's point of view? Then look out for opportunities to volunteer or work for the festivals - it's a brilliant way to see even more while paying less (or, even better, being paid to do it)
Check out our jobs page throughout the year, and especially in springtime, as Edinburgh's major festivals begin their annual search for staff. Good luck!
Image credits:
A Fringe performer on the Royal Mile (Edinburgh Festivals)
Man Vs Machine (Chris Scott/Edinburgh International Science Festival)
Mardi Gras (Edinburgh Jazz and Blues Festival)
Callum Innes, The Regent Bridge (Stuart Armitt/Edinburgh Art Festival)
Edinburgh Mela (Edinburgh Festivals)
Enchanted Wood day (Solen Collet/Scottish International Storytelling Festival)
Torchlight Procession, Son et Lumière, (Grant Richie/Edinburgh's Hogmanay)
Want news and features about Edinburgh's major festivals delivered straight to your inbox?
Sign up for our regular enewsletters!