Posh Nosh in the festival city
As the world's leading festival city, Edinburgh is not short on great places to eat and drink - in fact the main issue is how to choose between them!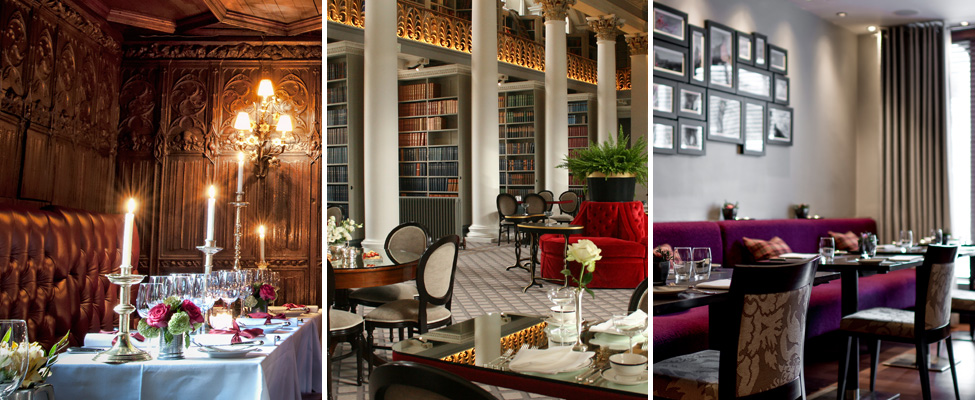 So if you're new in town or a regular just looking for some new tips, this week we'll be offering some recommendations from the many, many excellent options out there.
We'll be covering cafes, bars, vegan/vegetarian places and more - today though, shine those shoes and straighten that tie - it's Posh Nosh!
For an exquisite tea time
The Royal Mile may be the busiest street in Edinburgh during August but you can escape the Fringe madness for an afternoon tea at the elegantly stylish Colonnades as part of the Signet Library.
With dainty sandwiches and decadent cakes, plus superb tea, coffee and cocktails, Colonnades is the calm in the festival storm.
FE suggests: part of the same complex, the Signet Library Champagne Bar will soon become your favourite spot for a classy glass.
For superb dining
Representing the finest in Scottish produce, Castle Terrace Restaurant is suitably located within walking distance of the Usher Hall and Lyceum Theatre - both key venues for Edinburgh International Festival events.
This fantastic restaurant has a selection of carefully designed menus including a surprise tasting menu and Chef's celebration of the season menu.
FE suggests: The exclusive wine match package will bring out the tastiest flavours to suit your meal and palette.
For something magical
Frequented by loyal regular diners and famous faces, The Witchery boasts a spellbinding, world-renowned reputation due to its intimate, incomparable gothic décor and well-designed menu.
Located a stone's throw away from Edinburgh Castle, The Witchery is also a fantastically convenient place to dine before the Royal Edinburgh Military Tattoo.
FE suggests: aim for a sunny day and you can dine al fresco in the Secret Garden.
See more of our food and drink recommendations, or for lots more more top tips on where to eat and drink, check out The List's food and drink guide.
Want news and features about Edinburgh's 12 major festivals delivered straight to your inbox?
Sign up for our regular enewsletters!