Get Ready for Edinburgh's Hogmanay 2023
An expanded four-day programme of world-class events will mark the 30th aniversary of Edinburgh's Hogmanay. Running from Friday 29 December 2023 to Monday 1 January 2024, celebrations will kick-off with the much-loved Torchlight Procession, blazing a trail through the capital's Old Town for the first time since 2019. Let's take a look at the festival programme.
Friday 29 December
[6pm to 8.30pm]: Torchlight Procession
Enjoy a carnival atmosphere at the rebooted event, with a new start location at the Meadows presenting a feast of live Street Theatre, Fire Performers, Pipe Bands and Drummers to get celebrations started, before Vikings from Shetland's South Mainland Up Helly Aa' Jarl Squad lead the 20,000 strong procession, to create a stunning river of fire through the capital's historic Old Town. Further details HERE.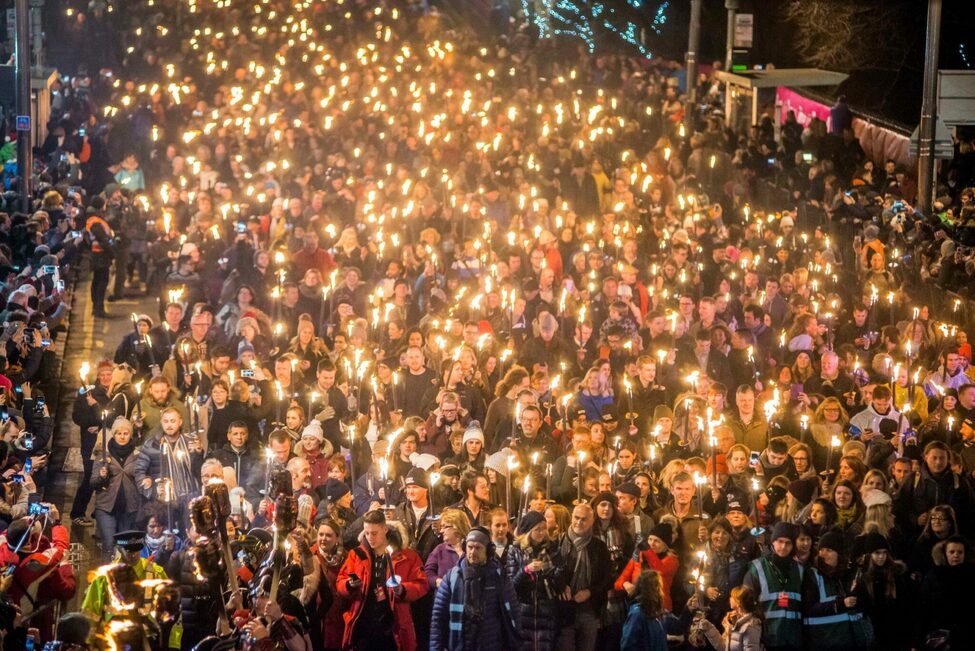 [8pm to 9.30pm]: Ho-Ho Hogmanay
Ho-Ho-Hogmanay presents at the Assembly Rooms a side-splitting night of live stand-up comedy from the very best acts on the comedy circuit. Hosted by Emmanuel Sonubi and featuring Fred MacAulay, Larry Dean and Susie McCabe. Further details HERE.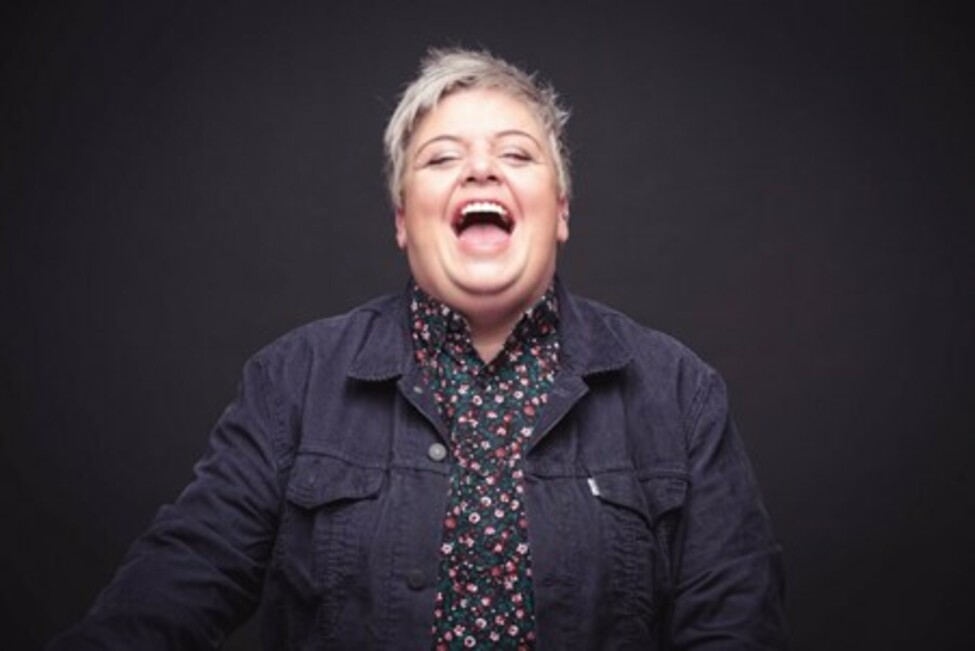 Saturday 30 December
[6.30pm to 10pm]: Night Afore Disco Party
Internationally acclaimed ABBA sensations Björn Again will headline the Night Afore Disco Party with Greatest Hits Radio beneath Edinburgh Castle, joined by the fringe festival smash-hit Massaoke, for the ultimate party night out! Further details HERE.
[8pm to 10pm]: Night Afore Hoolie
Blue Rose Code brings the year to an end with an unforgettable hometown show, backed by his big Caley Soul Band, and joined by some of the finest special guests, including Jill Jackson and Leith's own, Dean Owens, plus more to be announced. Expect a belting set from Blue Rose Code, along with collaborations on some familiar songs with the night's special guests, the very best of Scottish Folk, Soul and Americana. Further details HERE.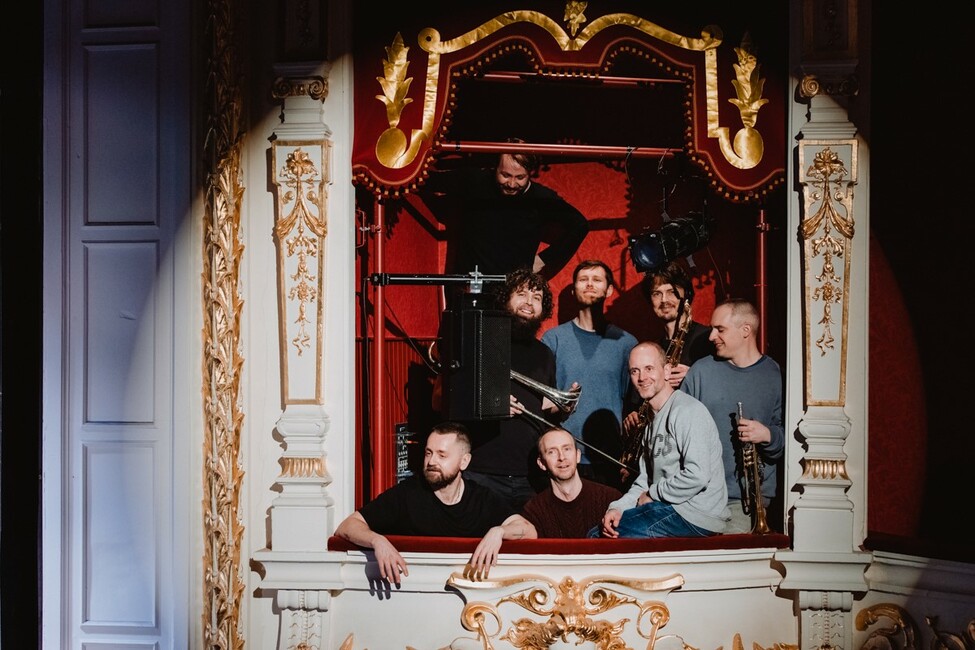 Sunday 31 December
[2pm to 3.30pm]: Bairns New Year Revels
A special Bairns New Year Revels allows young party-goers a chance to join the Hogmanay celebrations, a family-friendly edition from festival favourites Massaoke providing a live band sing-a-long soundtrack of kids favourite party tunes. with live music and dancing, with kids birlin' off energy to the Edinburgh's Hogmanay ceilidh bad, live DJ, and more! Further details HERE.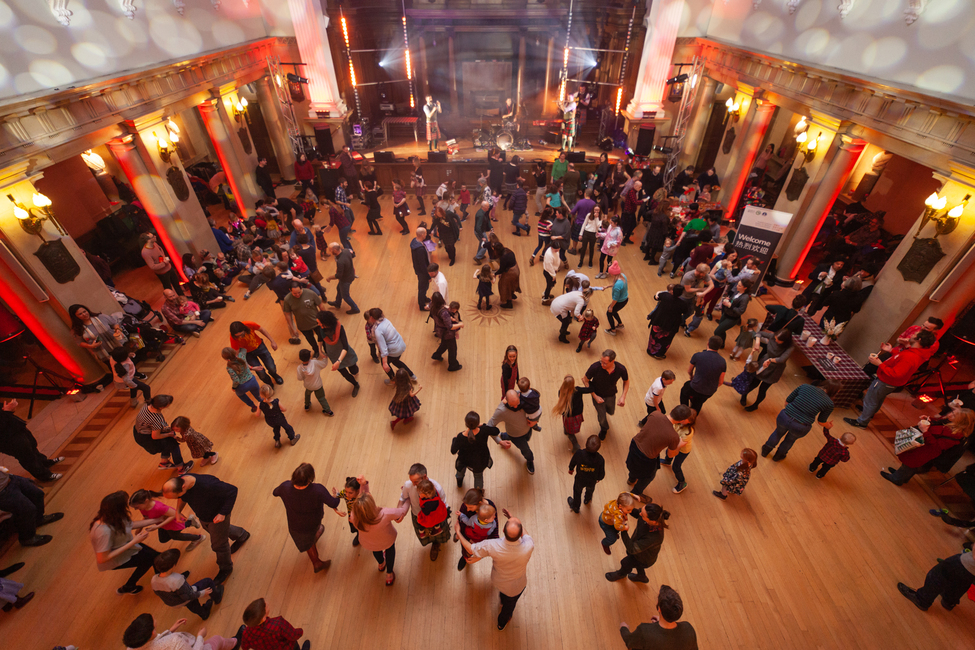 [6.30pm to 8pm]: Candlelit Concert
A festive celebration seeing in the New Year in the candlelit atmosphere of St Giles' Cathedral as it celebrates its 900th anniversary in 2024. This year's concert marks the festive season with the first three cantatas from J.S.Bach's Christmas Oratorio: Bach at his most exuberant. St Giles' Cathedral Choir, directed by Michael Harris, with the St Giles' Camerata, leader Angus Ramsay, are joined by a stunning array of talented young soloists. Further details HERE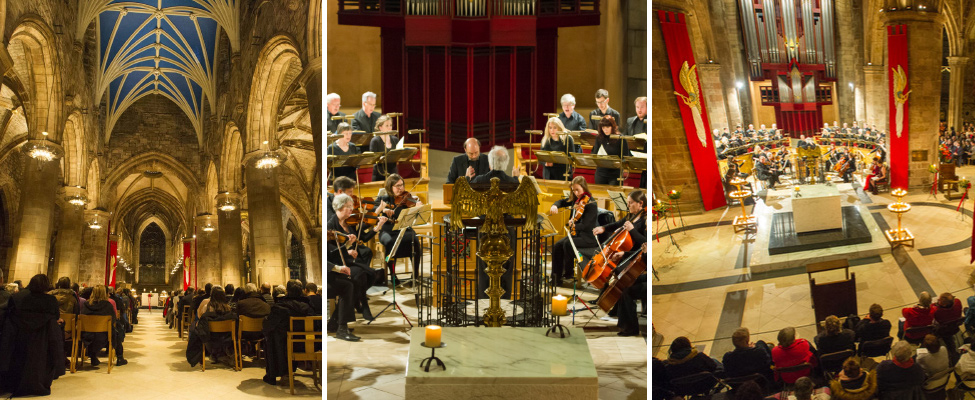 [9pm to 12.45pm]: Street Party – Silent Adventures Mega Silent Disco
Edinburgh's Hogmanay and Silent Adventures are delighted to present the return of the Silent Adventures Mega Silent Disco for this year's Edinburgh Hogmanay! Located with epic views of the fireworks and Edinburgh Castle on Market Street, this will be a 4000 person silent disco hosted by the capital's legendary Silent Adventures Team featuring DJ James Longworth & Special Guests. There will be three different genres of music to choose from using state of the art headphones. This year party-goers will be able to tune into the official fireworks soundtrack at midnight then dance the night into 2024. Further details HERE
[9pm to 12.50pm]: Edinburgh's Hogmanay Street Party
Celebrating its 30th anniversary this year, the world-famous Edinburgh's Hogmanay Street Party returns to the historic city centre, to once again light-up the Edinburgh skies, at one of the world's greatest New Year celebrations. Set against the stunning backdrop of the Edinburgh Castle, this year 40,000 revellers from around the globe, will party their way into 2024 with a feast of entertainment throughout the city centre, live soundtracks, giant screens, Street Performers, Pipers, Drummers, funfair attractions, delicious street food & drink throughout the arena, to create a carnival of celebration to bring in the New Year. Street Party revellers won't miss out of Pulp's headline Concert in the Gardens set, with the full performance and DJ soundtracks being broadcast to screens and PA throughout Princes Street in the Pop Zone with spectacular effects, to create one massive city centre party. Further details HERE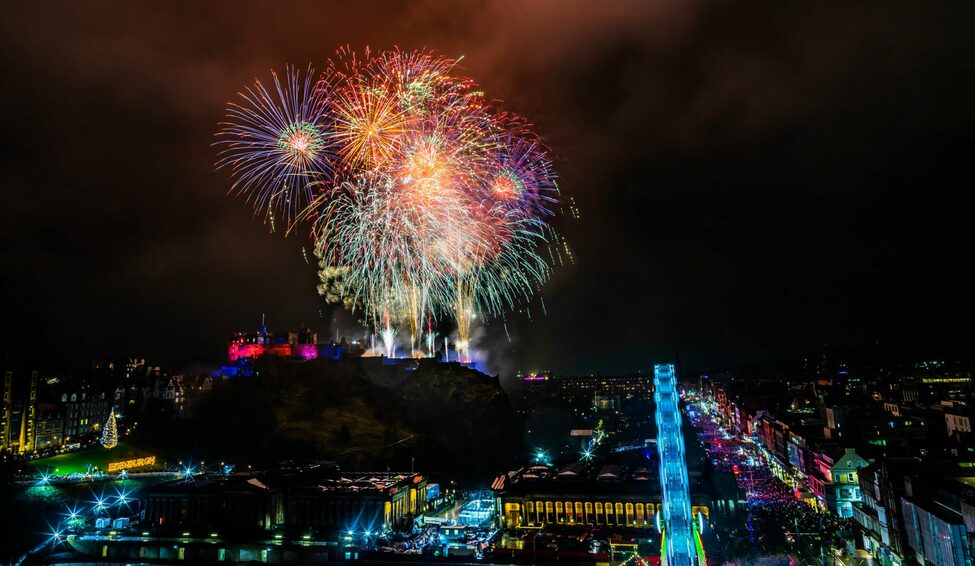 [9pm to 12.50pm]: Concert in the Gardens
Edinburgh's Hogmanay are pleased to announce that pop heroes PULP will headline the 30th Anniversary Concert in the Gardens on Sunday 31 December, welcoming party-people from around the globe to dance their way into 2024 at the world-famous New Year festival. Pulp's headline appearance at Edinburgh's Hogmanay marks the Sheffield band's first live show in the capital for over 20 years. Performing beneath the backdrop of Edinburgh Castle amidst one of the world's greatest New Year firework displays, Pulp will once again help make Edinburgh the best New Year party on the planet. Further details HERE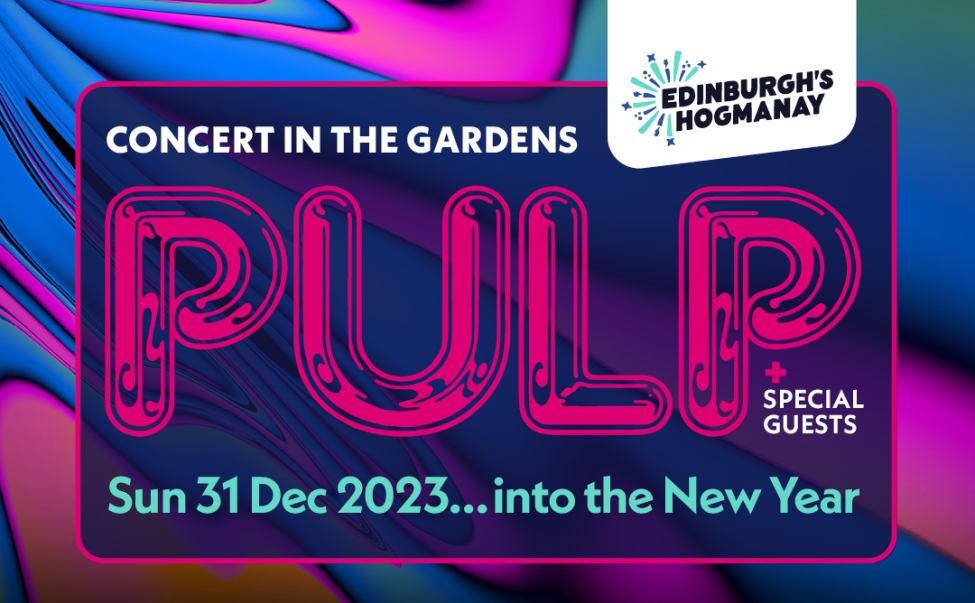 [9pm to 1am]: New Year Revels
The return of New Year's Revels, Edinburgh's premier indoor Hogmanay party, will see revellers birlin' through the bells courtesy of the finest ceilidh bands, live DJs, and festival favourites Massaoke providing a sing-a-long soundtrack to a spectacular Midnight Moment. Further details HERE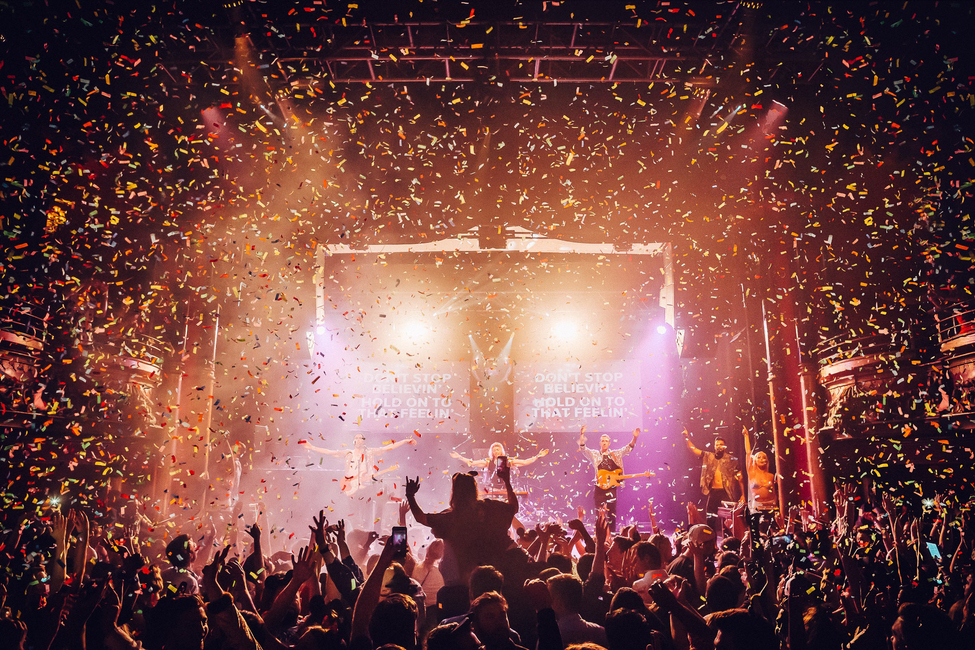 Monday 1 January
[2pm to 6pm]: First Footin'
Returning for Edinburgh's Hogmanay 2023/24, First Footin'presents an afternoon of FREE live music and performance taking place in various city centre attractions, pubs and venues across both Old & New Town areas. The afternoon of performance and guest collaborations will include award-winning artists Lau, Fergus McCreadie, Kathryn Joseph, Hot Chip (DJ set), Bemz, Cloth, and Sean Shibe. Audiences can explore the city, discovering (and rediscovering) some of Edinburgh's incredible venues, landmark attractions and independent pubs, enjoying Hogmanay traditions of friendship, food and drink, along with live music performances from a feast of artists from across Scotland. Full details will be released in mid-December.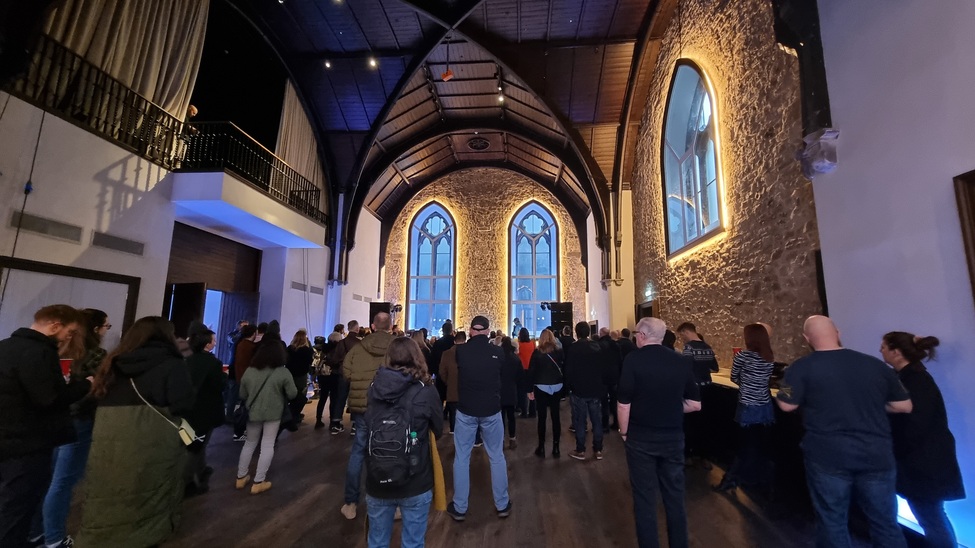 [2pm to 6pm]: Sprogmanay
A FREE and unticketed afternoon of fun for children of all ages in the National Museum of Scotland. Families can drop in to enjoy a programme of live music, comedy, magic and arts and crafts in addition to the National Museum's galleries which are packed with fascinating exhibits. Music performances from Unicorn Dance Party and Sprog Rock, arts and crafts, and the 'Resolution Tree', where children are invited to write their hopes and ambitions for 2024 on a star. Later, the Sprogmanay Family Ceilidh with the Edinburgh Ceilidh Club takes place at Assembly Roxy offering a free afternoon of ceilidh dancing with the Fruin Ceilidh Band in a fun, relaxed 'have-a-go' environment suitable for all levels of experience.
Plus much more events and details to be announced! Edinburgh's Hogmanay runs from 29 December 2023 to 01 January 2024. Got any questions? Check out the FAQs page.