Live from The Hub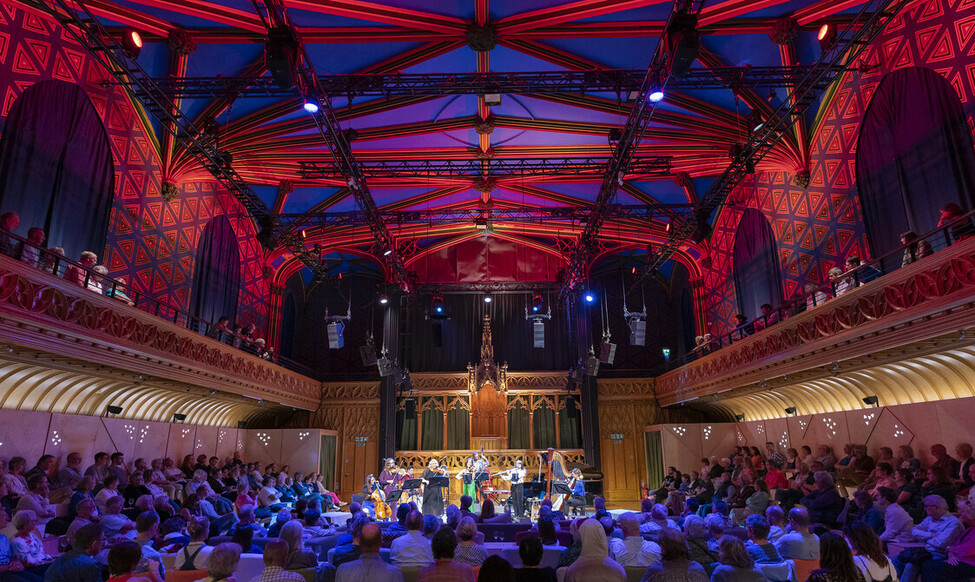 In 2023, the Edinburgh International Festival reimagined their HQ at The Hub as the green room of the Festival. Open daily throughout August, The Hub was a space to connect with artists and musicians in a series of evening music performances and free afternoon talks and workshops. The Festival also invited you to respond to our provocation 'Where do we go from here?' on a postcard, creating an installation in our main staircase.
And now the Festival has released a series of music videos featuring intimate acoustic sessions filmed at The Hub during August. So, we now invite to immerse yourself in The Hub as if it were your living room.
Orkney's own Catriona Price with a piece from her debut solo album Hert, blending her Scottish traditional music roots and classical music training.
https://youtu.be/m8WkIAKO_PA?si=i9QoHuznG2mKBsGs
Cellist Ayanna Witter-Johnson & LSO Percussion Ensemble perform 'Ocean Floor Suite: II. Pioneers', a lively, jazz infused piece.
https://youtu.be/3uBDNqWbRnU?si=opIt8QlWI-Vz3uDz
Abel Selaocoe blends South African and Western Classical melodies to create a powerful improvised piece, filmed at the Edinburgh International Festival this August in The Hub.
https://youtu.be/Hy052JAkzWU?si=5JK4wSpXQwJ7Hf4n
Geza & The 5 DeViLs brought energy, passion and vitality to the Edinburgh International Festival this August, including Geza's grand entrance through the audience at the First Night at The Hub. This music session is no different, featuring their piece 'Cickom Journey' Paraphrase, full of intricate melodies and their trademark dynamism.
https://youtu.be/NCBc4pwD1F4?si=94VyXVhXyZ7nHeYP
Films by Stuart Armitt Camera/Edit Support: Beth Chalmers & Scot MacMillan Sound support: Amir Sherhan. Picture credit: Iain Masterson. Thanks to our Hub supporters Sir Ewan and Lady Brown together with Flure Grossart.