Ambitious Art Festival comes to an end
Edinburgh Art Festival 2023 closed on Sunday 27 August, the first festival under the direction of Kim McAleese, presenting 55 ambitious exhibitions and events, in partnership with 35 of the city's visual art community and a wide range of partners and venues.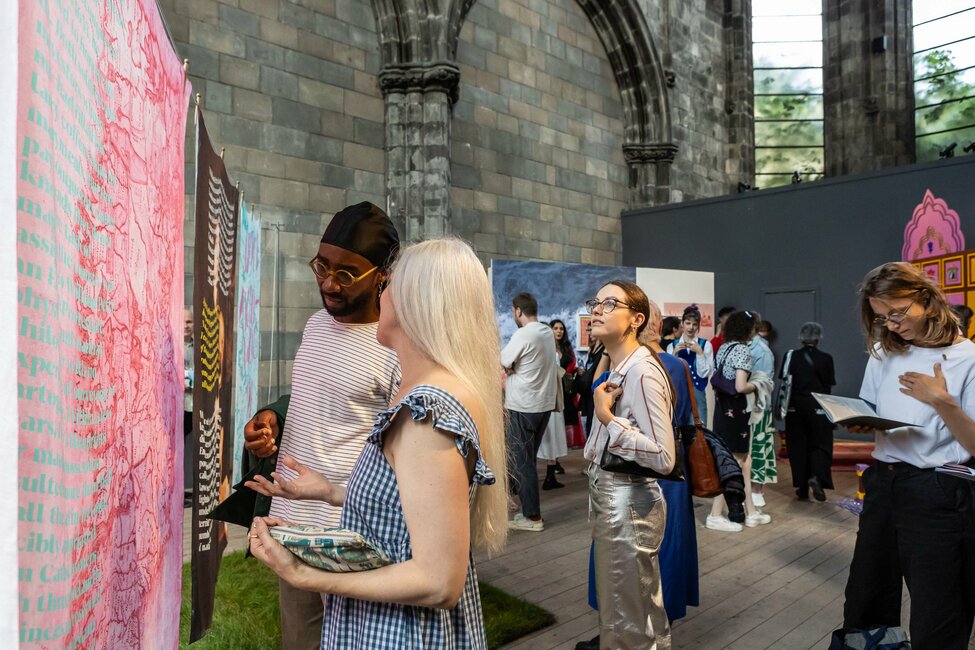 EAF 2023 focussed around three weekends - special events and projects punctuated the run of the festival, including readings, screenings, parties and live performances alongside the wider offering of exhibitions and commissions across the full period. A sold out series of festival-led commissioned performances and events this year offered a sliding scale ticketing structure for audiences, alongside a majority-free exhibition programme across the partnership. There were over 125,000 attendances across the programme.
From queer histories in brutalist tower blocks; to tracing peace lines and borders through sound, moving image and music; and the festival's continuing commitment to support structures, the 2023 festival-led programme featured artists, thinkers, writer and performers who move through this world deeply connected to feminist and queer practice.
The new format festival foregrounded reasons to come together, and saw collaborations with many gallery partners in the city including National Galleries of Scotland, Collective, Jupiter Artland, Fruitmarket, Royal Botanical Gardens Edinburgh and Sierra Metro; as well as new local and global partnerships with Edinburgh International Book Festival, Edinburgh International Film Festival, Lavender Menace Queer Books Archive, Waverley Care, The Common Guild, Forma, TULCA Festival of Visual Arts and Horizon Showcase.
During the festival we delivered Community Engagement workshops and events (which also take place all year round), including DIY art kits for children in Edinburgh, Visual Description tours in Leith, a collaboration with Barnardos Ukrainian families group, a workshop with Jesse Jones at Talbot Rice Gallery for young women of colour aged 8–13 and events for parents to experience the exhibitions in North Edinburgh child-free. Events also took place in Wester Hailes and in the city with the Community Wellbeing Collective and Lebanon based feminist collective Haven, as well as an in-conversation with Turner Prize-winning Belfast based Array Collective.
The festival was a call to action to explore Edinburgh, looking at the city a-new through the lens of visual art and across a diverse range of the EAF partner galleries, museum presentations, and newly commissioned works. Over 400 artists from across Europe, Asia, Australia & Oceania, Africa, North America took part in this year's edition, including over 100 based in Scotland.
Kim McAleese, EAF Festival Director, says,
We wanted to create a festival that felt rooted here in Edinburgh and connected to people in the city but which was also balanced with a critical and nuanced global dialogue. This year we worked to deliver a festival focussed on mutual support, in platforming artists, individuals and communities who can find alternative ways to resist. I believe in the generative process of collaboration and this was truly a feeling we all felt with EAF this year, by connecting, amplifying, promoting and sharing individuals, organisations, and projects that have an intimacy with these values. Thank you to all the people across Edinburgh and from further afield for joining us for EAF this August; it was wonderful to have so many artists, audiences, and partners come together for my first festival in the city. The new dates and format allowed us to deliver something in a new way; by punctuating the festival with weekend events, we opened up to new audiences, and formed dialogue with other art forms, partners and other festivals across the city in a warm spirit of collaboration. I look forward to welcoming everyone to the 20th edition of the festival in 2024, and beginning conversations to meaningfully begin to organise this soon.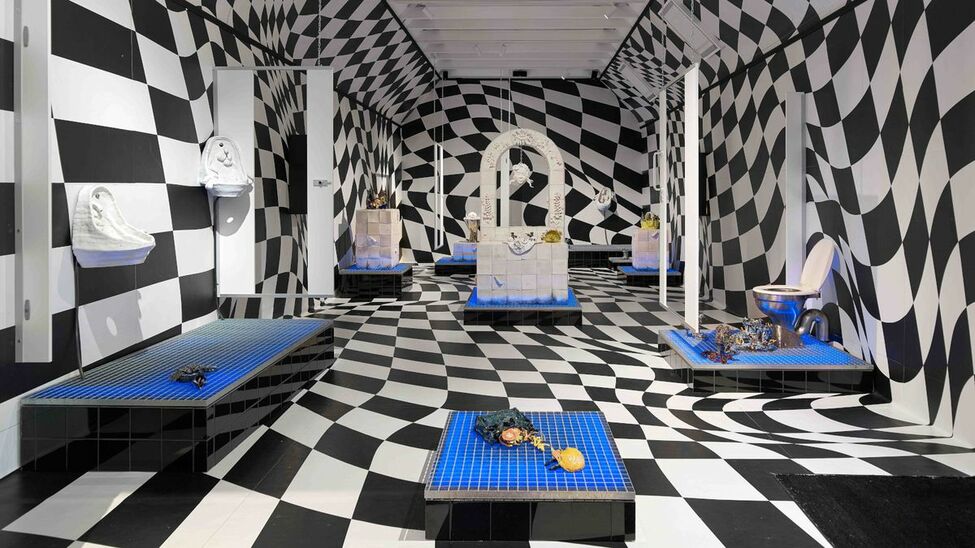 EAF highlights included:
● Sean Burns' Dorothy Towers showed the story of the legendary Clydesdale and Cleveland Towers, two residential blocks in the centre of Birmingham, UK. Completed in 1971 as a social housing development and located adjacent to the city's Gay Village, the towers' proximity to the community means they have long been a haven for LGBTQ+ people. In Edinburgh, the work catalysed a series of discussions and events tracing the themes present in the work to concurrent histories and realities in the city. This coincided with workshops and discussions on Edinburgh's queer histories throughout the festival with partners, including the Lothian Health Services Archives and Lavender Menace Queer Books Archive.
● The world performance premiere of History of the Present, where Northern Irish writer Maria Fusco, with Scottish artist film-maker Margaret Salmon and composer Annea Lockwood collaborated on a hybrid opera on stage and screen that featured live improvisation from percussionist Angela Wai Nok Hui. It is a new experimental opera-film forefronting working-class women's voices to ask: who has the right to speak and in what way?
● Alberta Whittle: The Last Born – making room for ancestral transmissions - a newly-commissioned performance, presented by EAF, National Galleries of Scotland and Forma, took Alberta Whittle's most recent moving image work, Lagareh – The Last Born as inspiration. Anchored around theories of abolition, rebellion, ancestral knowledge and love, the film melds a collection of scenes that give focus to the strength of contemporary Black womxn, whose individual acts of resistance are bound together through the artist's conceptual storytelling.
● Haven for Artists is a cultural feminist organisation based in Beirut, Lebanon, a community of many people, working together to organise, support, campaign, nurture and create in a country in a multi-dimensional crisis, through cultural programming. EAF invited Haven for Artists, to spend time in-residence during the festival with a programme of activities, connecting with local organisations and initiatives.
● Jupiter Artland joined forces with EAF for this year's edition of JUPITER RISING, one of the biggest one-night only parties in Edinburgh curated by artist Lindsey Mendick and collective Bonjour, a queer workers' coop based in Glasgow [picture above: Lindsey Mendick, 'SH_TFACED' photography credit John Mckenzie]
● For its 9th edition, Platform: Early Career Artist Award celebrated early-career artists working in Scotland, with the opportunity to make and exhibit new work. This year's artists selected from an open call were Aqsa Arif, Crystal Bennes, Rudy Kanhye, and Richard Maguire. The artists came together to address a diverse set of concerns spanning race, climate change, and food justice, to cultural identity in Scotland.
● Edinburgh-based poet Nat Raha presented the first iteration of a performance work epistolary (on carceral islands) addressing the history and development of island prisons across the globe through the colonial project of the British Empire.
● EAF and Collective presented BEAST! a performance work by the French artist and poet Tarek Lakhrissi, exploring bestiality as a philosophical and political concept by drawing on the stigma that historically frames queer people and people who belong to the global majority as monstrous.
● Initiated by The Common Guild, EAF co-presented an illuminated artwork by Rabiya Choudhry at Leith Library.
For an opening party at Edinburgh's Biscuit Factory on 11 August, there was the launch of Belfield Brewery's no-alcohol beer, Fire Island IPA in collaboration with EAF and Waverley Care. It was named in memory of the celebrated, pioneering gay nightclub that opened its doors on Edinburgh's Princes Street in the late 70s. Fire Island holds a significant place in the history of Scottish nightlife and the LGBTQ+ community and its impact continues to be celebrated and remembered fondly.
Partner galleries also presented a range of exhibitions, the majority of which will remain open into the Autumn after EAF closes.