Help us make Edinburgh a greener festival city in 2023
Our Festivals are working hard to be more sustainable (see our collective strategy document Taking Action on Climate Change) and when visiting during the busy summer period we want everyone to be more responsible and consider how to reduce their environmental impact. There are many ways to do this - from transport choices to food selections - and here are some top tips showing how you can help make Edinburgh a greener festival city, courtesy of Hélène Hajek [Instagram @songbirdsandsuburbs].
Where to find some environmentally-themed shows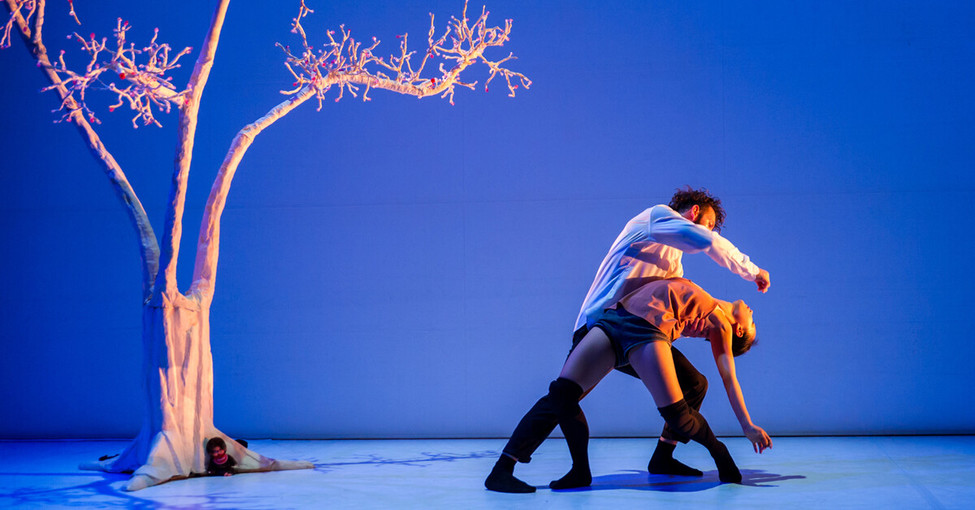 The Edinburgh Festivals offer an incredible variety of shows during the summer and sustainability is an important theme across the different programmes. Our colleague at Creative Carbon Scotland, Dominika Kupcova, has compiled a list of environmental-related shows you can see in August. You will be able to dive into many different themes through your favourite types of art from insightful book talks to immersive or experimental plays. As Dominika puts it, 'there's something for everyone'. .
What to pack for your visit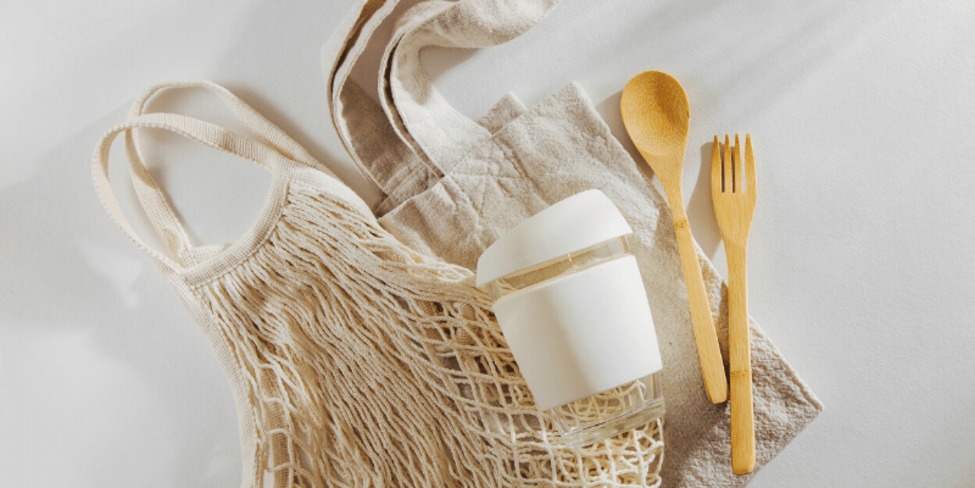 So you've made the decision to come to Edinburgh for our world famous festivals - and you want to be responsible. Well, the first step is deciding what to pack for your visit. Reusables can reduce your footprint so don't forget to bring your reusable cup, reusable cutlery and reusable food box if you can. This can reduce single use waste easily. Many coffee places in town and food trucks will be happy to serve your reusable cup or box, you just need to ask! Don't forget, individual initiative has the power to influence others. Using your reusables during the Festivals can help people realise that another way of living is possible. Bring your reusables everywhere with you and inspire others to do the same!
TIP : Edinburgh Council has recently created a whole new app to find the best shops to reuse, repair your items, find a sustainable gift and reduce your waste (See Edinburgh Reuse map).
How to travel to the Edinburgh Festivals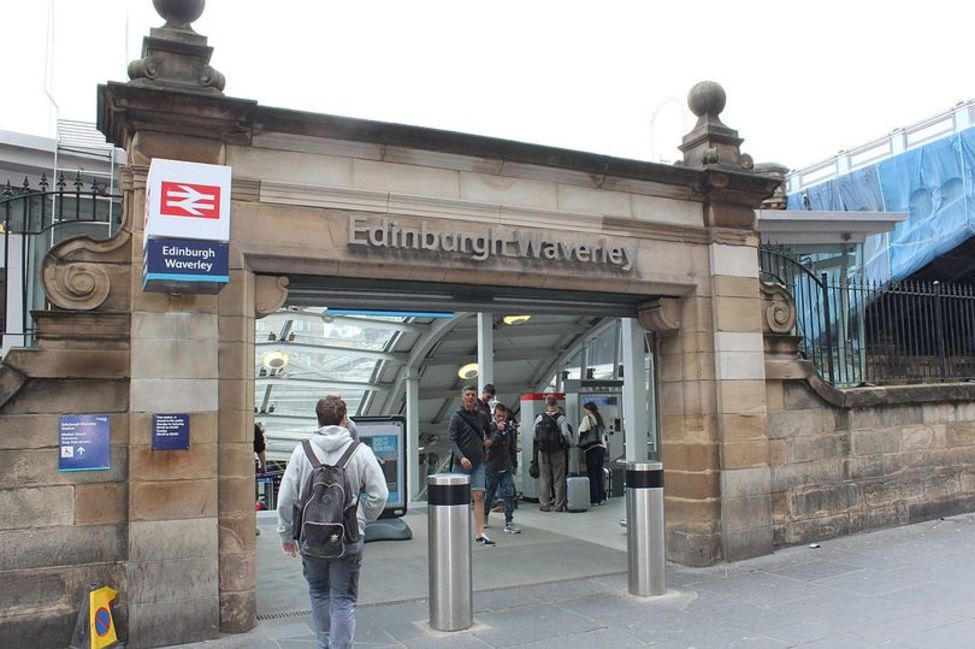 Next up is deciding how to get to Edinburgh from your home. Transport is a major contributor to climate change let alone noise and air pollution. Where possible, instead of taking the plane or your car, you can significantly reduce your carbon emissions by choosing greener ways to travel to and from Edinburgh. Trains are a great greener travel option, with Waverley train station is easily accessible being located in the heart of Edinburgh city centre.
TIP: If you can't take the train, you can look at car pooling: have you heard of or used TangoRide or Liftshare in the UK?
Where to stay in Edinburgh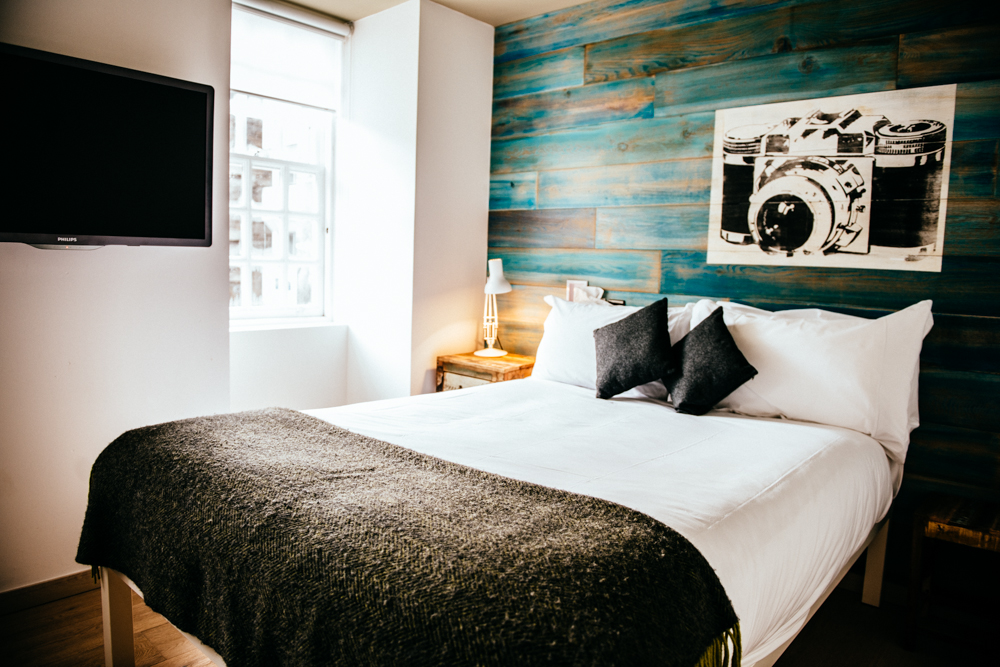 The Green Tourism Awards are given to hotels, restaurants and attractions that have excelled in a range of sustainable benchmarks including energy and water efficiency, waste management, biodiversity, community involvement and more.
A number of hotels around Edinburgh have been rewarded the Green Tourism's highest accolade - the Gold Award - for their sustainable practices and policies including: The Balmoral, Best Western Kings Manor Hotel, Dalmahoy Hotel and Country Club, Holiday Inn Edinburgh Corstorphine, Radisson Blu Hotel, Sheraton Grand Hotel and Spa, Straven Guesthouse, Ten Hill Place Hotel and Edinburgh Central Youth Hostel.
TIP : if you are on a budget, couchsurfing can be an option and you can meet with locals!
How to get about when you're in Edinburgh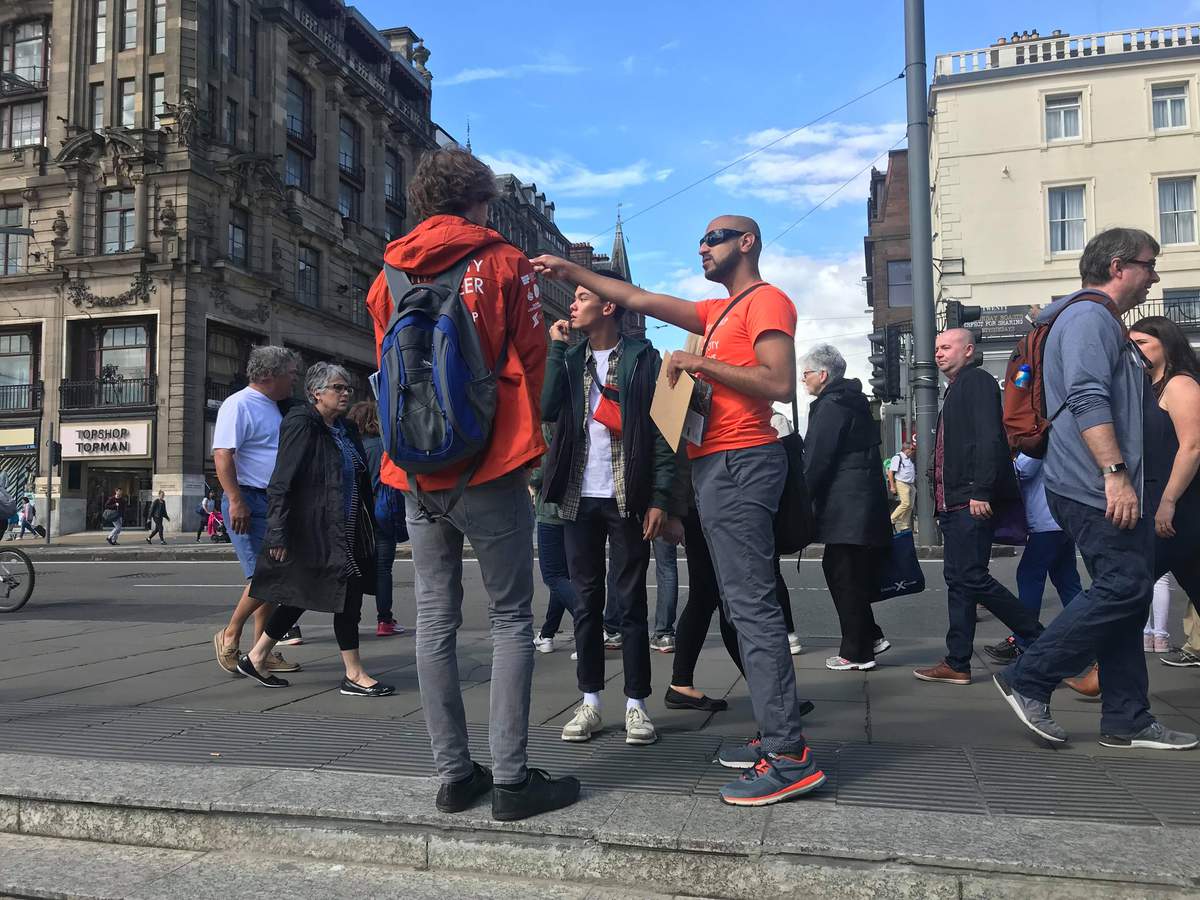 Walk: Did you know that Workthere named Edinburgh as the best city in the UK to walk to work? And it's just as good for visitors. You could easily walk to a Festival Fringe show and then decide to walk to a nearby exhibition at the Art Festival, before moving on to a show at the Edinburgh International Festival or the Book Festival.
Bike: You could even consider renting a bike during your stay for the Festivals. If you are in a hurry, this is a very low-carbon option that will get you anywhere you want from one Festival show to another without having to take a taxi.
Bus: Edinburgh has an excellent network for public transport. It is very easy to go to a show by taking the Lothian buses. They are stopping quite often and will take you to any part of the city you will wish to explore. There are also daytickets that you can get for £4.50 and enjoy the city while taking as many buses as you would like.
Where to eat between shows

While visiting our Festivals, you will surely be looking for some food - another great way to enjoy the Festivals. Why not give a try to some delicious vegan or vegetarian food and limit your environmental impact? Vegan and vegetarian meals have a lower carbon impact than meat. Some great vegetarian spots in Edinburgh are Hendersons, Paradise Palm, The Holy Cow, Plant Bae and Susie's Vegetarian Kitchen.
If you prefer fish and seafood, keep in mind to favour sustainable fishing. Sustainable fishing means that there is enough fish left in the ocean after the fishery and does not damage natural habitats. Fishing is done responsibly on the contrary to overfishing. If you can, look for the Marine Stewardship Council (MSC) blue eco-label certifying that the product is from a sustainable fishery.
TIP: Remember to avoid food waste as much as possible, give what you can't eat to someone else and compost if possible.
How to stay hydrated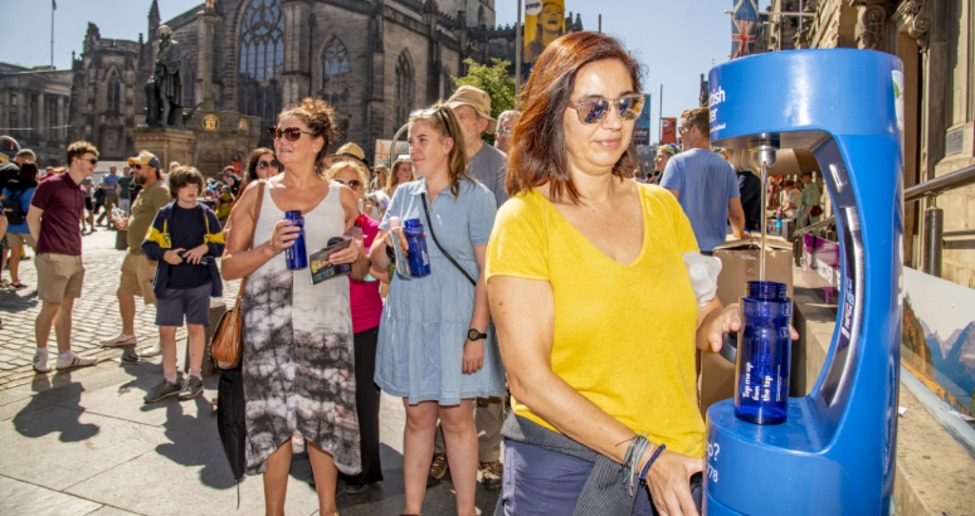 Scotland has one of the finest waters in the world. If you find yourself out of water between festival shows, try to find a water refill station which are available all around the city. Scottish water has installed more than 70 water refill stations all around Scotland called Top Up Taps and launched the initiative Top Up Tap Map to locate them all across the country. Click on the map to find the nearest Top Up Taps stations
TIP: Keep in mind that you are always welcome to ask in a pub, café or restaurant to refill your reusable bottle or reusable cup..
How to spot an eco-friendly Festival venue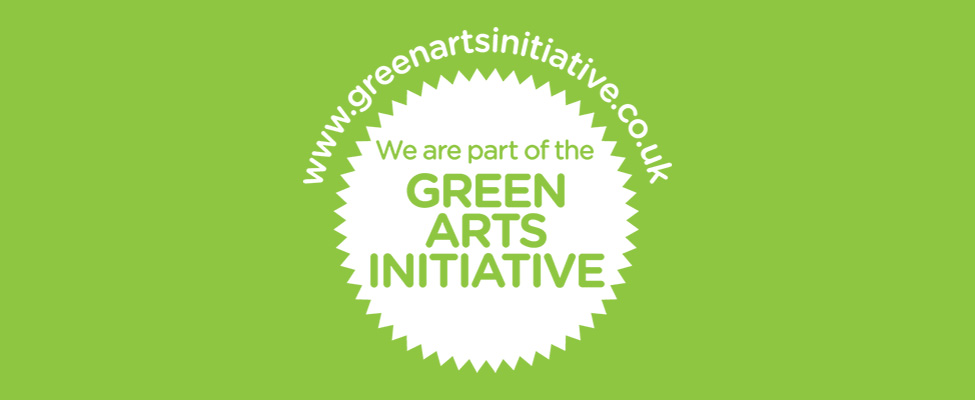 While festivals are making an effort to lower their carbon footprints, you can take part in the collective effort in your daily choices by choosing to support an eco-friendly, low-carbon venue, business or festival show. This is easily done by looking out for the Green Arts Initiative logo. Initiated by Creative Carbon Scotland and the Edinburgh Festivals in 2013, the Initiative supports Scottish arts and cultural organisations to reduce their impact on the climate and environment, and to be at the forefront of creating a sustainable future for our sector and beyond.
TIP: To reduce your waste during the Festivals why not take a picture of a flyer instead of taking the flyers and throwing it in the bin a few hours later. You can save trees and reduce your waste at the same time. Remember as well to delete the photos in your camera because storing data requires energy.
That's just some of the steps you can take to help make Edinburgh a greener festival city and you can find out more about the environmental policies and activities of the individual festivals HERE.