Bringing young children to Edinburgh's Festivals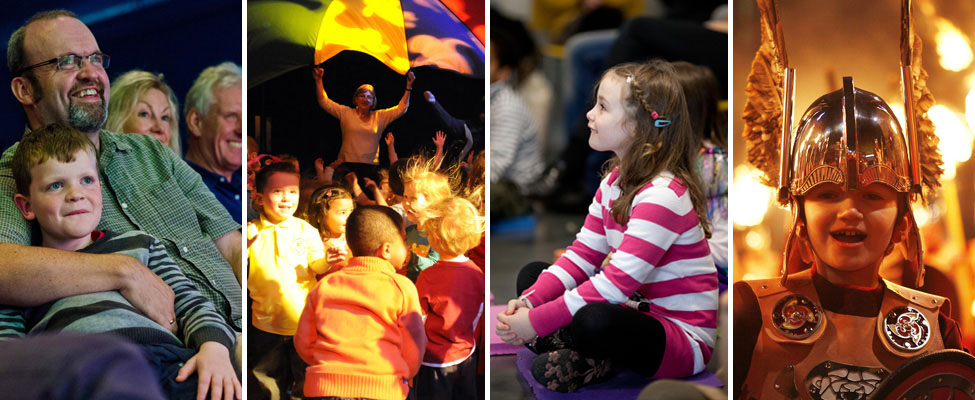 Edinburgh's Festivals are a fantastic choice for a family holiday, even for parents with young children. Here are our top tips on what the festivals have to offer!
Festival Fun throughout the year
While specific programming will obviously vary from festival to festival, there's always plenty for young children and their parents to see and do:
Spring
In spring there's April's Edinburgh International Science Festival and Edinburgh International Children's Festival in late May. The former festival offers a fantastic range of interactive science fun for all ages, and the latter is Edinburgh's dedicated festival of performing arts for children and young people. Both festivals have a wide range of excellent stuff for little ones to see, do and enjoy.
Early Summer
When summer comes, there are a range of different festivals, all offering child-friendly activities, and starting with...
Edinburgh International Film Festival in June, which always includes a great selection of family-friendly material, including open air afternoon screenings of kids' favourites.
July sees Edinburgh Jazz and Blues Festival open with the amazing Carnival Parade, which winds through the city centre full of colour, noise and fun for all. Musicians, dancers and acrobats will thrill kids and adults alike.
August
...and then August arrives with its fantastically bewildering array of thousands and thousands (and thousands) of shows, performers and festivalgoers of all ages!
Autumn
After the full-on Edinburgh summer, autumn offers the chance to ease back and introduce your children to the magic of traditional storytelling with the Scottish International Storytelling Festival in October. With storytellers from around the globe spinning tales of all sorts, it's a lovely opportunity for families to escape the cold and dark outside.
Winter
And in winter there's Hogmanay - Edinburgh's spectacular New Year celebration with 3 days of revelry. Look out in particular for the amazing torchlight procession and other special events especially designed for families to enjoy!

Practical points
Getting around
If you have young ones to get around the city, then the city's excellent bus network is your friend:
under 5s travel free (up to 2 children per paying adult)
buses have low entrances, ideal for buggy use, plus many buses have a dedicated buggy space near the door
wheelchair spaces may be used for buggies too, although they must be relinquished for wheelchair users when required. A replacement ticket to continue your journey is issued if the buggy cannot be folded up.
Pit stops
When you're out and about with young children, it's always good to know where the nearest changing facilities are - but thankfully, most major cafes, restaurants, attractions and even many shops having good quality areas for a quick nappy swap. Baby change facilities will usually be found in gender-neutral accessible toilets and/or in both ladies and gents toilets.
Letting off steam
Sometimes both children and parents just need somewhere to burn off excess energy or get a moment of peace and quiet.
Edinburgh is lucky enough to have a great range of beautiful green parks, and most have fun, modern play areas for the kids. Some of the best include Princes Street Gardens, the Meadows, Bruntsfield Links, Inverleith Park, Holyrood Park, Blackford Hill, Harrison Park and Saughton Park - and there are many more.

Beyond the festivals
Even if you're visiting the city for a festival (or lots of them) you'll want other options to keep the children entertained - try a few of these superb attractions:
Edinburgh's Camera Obscura
Royal Botanic Garden
Dynamic Earth
National Museum of Scotland
Museum of Childhood
Edinburgh Zoo
For more on these and other Edinburgh attractions, please visit our Planning pages.
Edinburgh is a city with so much to offer parents and children, all year round - and with helpful facilities and welcoming people, her range of great festivals is here to be enjoyed by all!
Images:
A happy family audience (Edinburgh International Book Festival)
Stillmotion presents 'We Dance Wee Groove' (Ian Watson)
A young festivalgoer (Scottish International Storytelling Festival)
Torchlight Procession (Edinburgh's Hogmanay)
Street performance in Parliament Square (James Ratchford/Edinburgh Festival Fringe Society)
Edinburgh Festival Carnival (AJ Blair/Edinburgh Jazz and Blues Festival)
Macastory Tour Old Edinburgh for Families (Credit: Solen Collet)
ER at City Art Centre during the 2014 Science Festival (Allan MacDonald/Edinburgh International Science Festival)
Dynamic Earth (Marketing Edinburgh)
Want news and features about Edinburgh's major festivals delivered straight to your inbox?
Sign up for our regular enewsletters!