Top tips for a last minute visit to Edinburgh's Festivals this August
By Dan James, Festivals Edinburgh Blogger in Residence, August 2018
Last night I found myself semi-naked, in a bed, with someone I didn't know in front of a live audience. While in normal circumstances this could have been a questionable night, at the Edinburgh Festival Fringe it's all part of what makes this city so electric in August. Onstage Dating was my first show of the season, and it certainly kicked off my visit with a (slightly embarrassing) evening I won't forget!
As I scanned the handful of empty chairs in the back rows and later replied to messages from people who had told me they had left it too late to come and see the incredible five festivals Edinburgh hosts in August, I realised that while planning a last minute visit to Edinburgh Festivals might seem like a challenge it really is possible.
Throw out every warning you've ever heard about booking your August Festivals visit in advance and get planning your trip in the coming weeks with these handy tips; your last minute Edinburgh Festivals fun could be just days away.
Getting to Edinburgh's Festivals last minute
For international visitors, you are spoilt for choice when it comes to visiting Edinburgh. Arriving by plane, Edinburgh Airport is very well connected by buses and trams, so it should definitely be your first choice.
However if you can't find the right flight to fly direct you can also check out one of the many other Scottish airports, including Glasgow Airport which is just over one hour's drive from Edinburgh while coaches or the combo of bus and train can bring you to the Festival City in around an hour and a half.
Or, from Prestwick Airport, south of Glasgow, you'll need to add a further 40-minutes extra journey time on top. You could even fly into Newcastle and thanks to the well-connected airport buses, and train lines, find yourself transported from arrivals to Edinburgh Waverley station in just over two hours.
Use the handy flight search tool on Skyscanner, an Edinburgh-born company, to find the best value and dates over the coming weeks.
For domestic visitors, for a last minute trip, you may want to get creative on how to travel to Edinburgh. While those in the south of England might still be able to find some good value, carry-on only flights direct to Edinburgh, coaches are likely to provide the best value fares at this late date.
Train travel can half the time coming from London, but with most advanced ticket discounts now taken during the festival period, if there's a squad of you, you might want to consider jumping in the car. It's around a 7-8 hour drive, but while the sun is still shining in the UK, it's a perfect excuse to throw the tent in the boot and enjoy an over-night under the stars stay on the way to Edinburgh's Festivals.
Finding Edinburgh Festivals Accommodation at the last minute
Accommodation notoriously books up fast in Edinburgh for the festivals and in August that can mean steep prices for last minute bookings. Consider checking out sites such as Airbnb in case last-minute cancellations have thrown up discounted rates.
The Scottish Youth Hostel Association also provides a range of accommodation including their standard hostels, but also take over many of the university lodgings during the summer months to provide additional good value beds in the city.
The great thing about the five August Festivals is that the programmes, shows and events run all day so even if you aren't able to secure accommodation in the city itself, you can call elsewhere home and easily visit during the day.
For example, if you base yourself in Glasgow, you can travel to Edinburgh in under an hour, and with the last train leaving just after midnight, you'll still be able to fit in evening shows, or beers, soaking up the lovely summer evenings of the festivals.
Take a look at the Map View of available accommodation on VisitScotland where you can also check train times and distances to Edinburgh, and you'll be surprised how many towns and cities are well connected to the Festival City.
Getting last minute tickets for the Edinburgh Festivals
While certain shows will be hard to secure last minute tickets for, there are thousands of performances across the five festivals, so I'll guarantee you'll be able to bag tickets for something no matter whether you are into comedy, dance or awkwardly having a first date on stage. Here's the lowdown on the five different festivals in August.
The Edinburgh International Book Festival opens on 11 August and entry to the 'book village' is free meaning no tickets are required to relax in the gardens, see any open space performances or peruse the numerous books for sale in the three retail stores.
The ticketing site for the Book Festival has a handy filter to remove Sold Out shows so you can quickly see what tickets are available for the dates of your visit. From workshops to readings by well-known authors, this literacy feast is a must for anyone who loves getting lost in the words of our world's greatest writers.
Edinburgh Art Festival is the best friend of anyone who lives their life as unorganised as I do. Most of the events are not only free but also unticketed, which means you can easily slot the exciting exhibitions, performances and guided tours around the other shows in your schedule.
From Edinburgh's top galleries to public art commissions in unexpected places, the Art Festival spotlights both emerging creatives and established artists, and you'll likely stumble upon many of the installations unplanned during your last minute visit to Edinburgh Festivals.
The Edinburgh International Festival brings together incredible performers from around the world with a programme packed full of dance, music, theatre and opera. With fewer venues than the Fringe and a curated programme, this is the festival you should be picking your shows and booking your tickets in advance, although as the venues are generally larger, you can still secure tickets to many of the performances throughout the August season.
Thanks to the insane amount of venues and shows at both the Free Fringe and ticketed performances you can be sure to stumble into an underground bar-come-performance-space or witness street performers on the Royal Mile without having even to think ahead.
The opportunities to laugh, cry, provoke thoughts or be in awe are endless at the Fringe and locals and visitors alike will happily offer recommendations of shows they have loved to you if you strike up a conversation in a bar or one of the many outside festival beer gardens. For your last minute Edinburgh Festivals visit, the Fringe website is your best friend.
The Tattoo, set against the backdrop of Edinburgh Castle, is an iconic event that sells out every year. With Military Bands from around the world, and even some Omani horses this year, the demand for tickets can make last minute plans that little bit harder, especially for the lower priced tickets which are tiered in cost.
That said, many of this year's performances still have limited availability left, and occasionally the box-office will have returned tickets to resell so if you can grab yourself tickets to this (for many) once-in-in-a-lifetime show then I promise you won't regret it!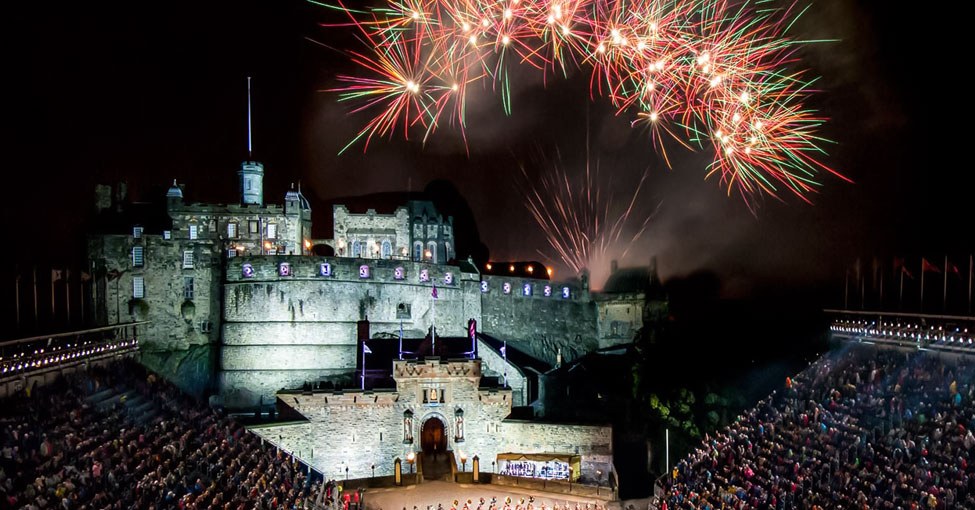 With so much going on throughout the city until the close of the August festivals season, even just walking the streets, hopping between bars and venues and soaking up the street performers on all corners you can have a delicious taste of the festivals before you've even seen a show. If that's not a good enough reason to make your last minute trip happen, I don't know what is!
Still can't make it work?
Then now is the perfect time to start planning a visit to one of Edinburgh's many other festivals. The Storytelling Festival in October and the traditional new year celebrations of Hogmanay in December round off 2018, before the eleven Edinburgh festivals taking place throughout the new year make this a city you'll always have a reason to visit!
Look out for more from Dan during August 2018, and follow his adventures using #DansFestivalCity on Twitter, Facebook and Instagram.